[INT SOL.]

(JOEL and 'BOTS arrive at the command console. JOEL is holding a large jar filled with what look like big loose pieces of SIMMS modules.)

JOEL: Okay, fellas, snack time! You know the drill -- you give me a good thing and a bad thing about the video, and I give you a delicious RAM chip. Who's first?
CROW: Me! Me! Oh-oh-oh -- me! The good thing is...this video contains the biggest family of mutants we've seen on one screen since The Corpse Vanishes.
JOEL: (pulls out RAM chip) Okay, good. And the bad thing is...? (dangles the treat suggestively)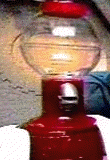 CROW: Bad thing is, ahhh...they bleeped out all the good parts.
JOEL: Now how would you know that, exactly?
CROW: I just do.
JOEL: Well, you'll get over it. Here. (offers RAM chip to CROW, who falls upon it with a cry of joy. JOEL turns to TOM as CROW snarfs loudly) How about you, Tom?
TOM: Good thing...well, it had more of a plot than Mighty Jack.
JOEL: Tom, ol' buddy, the Green Bay Residence Pages has more of a plot than Mighty Jack -- but your point is well taken. Now give me the rest of it.
TOM: The bad thing...well, say what you will about Nine Inch Nails, but I can't help thinking there are plenty of organizations more deserving of being locked in a cage and tormented by naked apes!
JOEL: Oh, yeah? Like who, for instance?
TOM: Well...the 102nd Congress, for starters.
CROW: And the officers of whatever bank it was that decided to recapitalize Donald Trump.
TOM: The New York City Bar Association, while we're at it.
JOEL: And the entire cast of Saturday Night Live.
CROW: The Friars Club!
TOM: Bert I. Gordon and Robert Lippert!
JOEL: The Pat Buchanan for President Committee!
CROW: The Warren Commission!
TOM: The Trilateral Commission!
JOEL: The Baseball Commission!
CROW: Pepsi-Cola!
TOM: Coca-Cola!
JOEL: Royal Crown!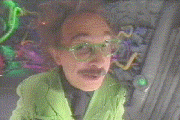 [INT DEEP 13.]
(DR. F is watching the goings-on with a disgusted expression. FRANK has finally regained his feet, but his face and neck are completely obscured by bits of red-stained toilet paper; they even cover his eyelids.)
DR. F: Look at them. Gadding about as if that's the reason I put them there. Well, Dr. Clayton Stonewall Forrester doesn't have to listen to this if he doesn't want to! Push the button, Frank.
(The virtually mummified FRANK gropes his way along the control panel, over the Celebrity Cut-Ups packages, into DR. F's pockets, etc., but cannot find the button. DR. F, fed up, pushes FRANK away, then trips him for good measure. As FRANK once again crashes to the floor, DR. F stalks off, pushing the button on his way out.)
[BUTTON]
[LOVE THEME UP]
[END TITLES]
-- kt and steph nahas
---

STATEMENT THAT WE'RE JUST HAVING INNOCENT
FUN, WHICH THEORETICALLY ALLOWS US TO TAKE
ALL THE CHEAP SHOTS WE WANT AND CALL IT FAIR
USE, NOT THAT WE'D EVER DO ANYTHING LIKE THAT:
Mystery Science Theater 3000, its characters and situations
are &copy Best Brains Inc. Nine Inch Nails and "wish" are &copy Nothing/
TVT/Interscope Records. All rights reserved. All slights deserved.
No Kevlar puppets were harmed during the making of this parody.
See the movie, read the book -- act now, offer ends soon. Sorry,
no C.O.D.'s. Thank you for reading this message.
---
Enjoy our good-natured ribbing! Catch these fine reruns of Mystery Nine Inch Theater 3000, now in syndication (and don't forget to set your VCR -- oh, and there are no return links, either, so you'll just have to suck it up and use the "back" key):

hope and vaseline -- hnv@nin.net