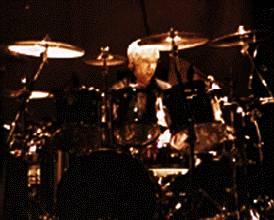 Denver, colorado

mike jandes (nin@prairienet.org):

Hey...on October 16 at about 10:55 p.m. (Central time), Al Michaels of "Monday Night Football" mentioned that David Bowie was playing at McNichols Arena with NIN....
---
mr jupiter 6 (synthboy@teleport.com):
Yeah, I was watching...was I surprised to hear Bowie and NIN mentioned on "Monday Night Football" (that was a really bad Major Tom reference there, Al!). They even showed an aerial shot of the outside of McNichols. So, for all you NINnies who went to the show in Denver, consider yourself immortalized on video -- go get a bootleg of the Raiders-Broncos game from some sport nut, and make yourself feel better!
By the way, the aerial shot came in the 4th quarter, with Denver leading 24-0.
---
randy ray (rjray@lookout.ecte.uswc.uswest.com):
My SO and I agreed that "hurt" paid for the tickets at the Denver show. Bowie is one of the few musicians she likes more than NIN. With the different intro, we didn't know what song it was until Bowie started in on the first verse. I literally had to hold her up -- she went honest-to-god weak-kneed.
---
Las vegas, nevada
amy burkhart (amyzzz@imap1.asu.edu):
I got there late, just after Prick was on. NIN started 10 minutes early, in the usual way -- they just jumped into "terrible lie" with no warning (except for people who recognized Chris and Robin already onstage).... "The becoming" was really cool with the lights flashing corresponding to the odd drum beats. And Robin sounded so cool on guitar in the slower "Annie" part. Then came "sanctified" -- which, as we all know, began so strangely that no one knew what the song was. I never really liked this song except for the lyrics; I guess I feel the same way about it that Trent feels about "kinda i want to." But live, it was pretty cool.
Next was the "piggy" remix. I really liked this one! Has anyone noticed that the moaning on it sounds like JAMC's Desdemona remix of "Teenage Lust"?... The lighting was really exciting on this one. "Gave up" sounded really good, especially near the end ... he slowed the later part of it down very effectively.
An instrumental version of "Eraser" led into the Bowie part of NIN's set. I thought this was about the coolest part of the show because of Trent's sax solo and the somber mood that pervaded the building. (I love those purple and greenish lights, too.) I thought the way they changed the song was so eerie and otherworldly, and it anticipated the way Bowie reworked "The Man Who Sold the World" later on. When they switched to rocking that "Scary Monsters" song, it almost ruined it for me -- but I guess it achieved the astonishing effect they were aiming for. For me, "reptile" and "hurt" were amazing because I could just feel how important this was to Trent -- having your idol sing your songs...God, I cannot even imagine how fucking pleased I would be at that moment.
Squeezed in between the duets was "Hallo Spaceboy," which I did not particularly care for. The lighting on "reptile" was pretty cool, as well as the singing. I love the part when both men say "please...don't...hurt...me...." And call me crazy, but I liked the added harmony in "hurt," and I also liked the new arrangement of the background music.
---
San francisco/oakland, california
aardvarx (aardvarx@ix.netcom.com):
First off, Shoreline sucks -- there is no real pit. (My idea of a real pit is where Trent can spit on you.)
I watched some little girl fall over from excitement when "closer" started. "Sanctified" and "the becoming" were great. "Burn" had bass -- cool. I wasn't too into the duet on "hurt." Although I have a lot of respect for Bowie, I really don't get too into his work.
---
mitchell plitnick (mjpchell@netcom.com):
Wow. This show was dynamite, my own dream come true -- no songs I have heard a million times, but excellent performances of some of Bowie's most brilliant work (and, yes, you might have guessed I am quite thrilled with Outside). NIN is not to my taste, but they definitely put on a powerful show, one that should have been quite pleasing to people who like their sound. The three pieces that Bowie did with NIN were great. Then "Look Back In Anger," and I'm in heaven -- if I had to choose one favorite Bowie song, this may well be it! I was amazed that Bowie was able to sing it in true fashion; his voice was in much better shape than it was on either the S+V or Tin Machine tours....
The only somewhat disturbing (though entirely expected) thing was the crowd reaction. Many people (even more than I expected after reading the posts in this group) left after NIN, and more continued to leave throughout Bowie's set as it became clearer that he really wasn't going to play any of the more recognizable old songs. Not only that, but the crowd -- which went wild at the end of every NIN song -- was only politely applauding after each Bowie song, and not one person that I overheard commenting on the show afterward seemed to like it much at all. I expected a fairly negative reaction, but I thought there would be a somewhat larger contingent that knew that the show was going to be Outside and more obscure older songs, and were expecting it, and enjoyed this setup as much as I.... The only other wish I had was that DB hadn't cut "Joe the Lion" and "My Death" from his set, but oh well. I was thrilled with this show.
---
judy mahtaban (judym@leland.stanford.edu):
I'd have to say the most engaging (if any -- the show sucked) song was "down in it," because Trent got so mad that he laid down on the ground and hocked the biggest yellow loogie up in the air that landed smack on his face. The whole crowd laughed in unison...it was the only emotion evoked all night. Sorry-ass Shoreline.
He was pissed because nobody was even moving, for chrissake! But then again, how can he expect to go on tour seven months after a major road trip and regurgitate the same old shit and get the same response? I'm not sure.
---
roo (22bbaker@sirius.com):
I thought it was great...and what do you mean nobody was moving? What section were you in? I've seen NIN five times, and I have never felt like I was hearing the "same old shit." It was amazing! That was worth the 40 bucks alone. I got the impression that Trent was not annoyed at the crowd so much as he was at the "important people" who had the front row seats...and those pesky little photographers!... It wasn't the best show, just because it was at the Shoreline and Trent's set was so short -- but it was brilliant. It had a different feel to it.
---
nancy of ambrewsia, inc. (nancyp@netcom.com):
Well, maybe he can expect it because...
...some of us hadn't seen NIN live in almost a year.
...it wasn't ENTIRELY the same old shit -- the Rubin version of "piggy," some people early on got "closer to god" instead of "closer," and it was worth the price of admission just to see TR play the sax. Oh yeah, and he jammed with that Bowie dude. ;-)
...the crowd gets what the crowd gives. At Dallas, the crowd was pretty good (standing on the chairs from the get-go), and the show was good. At Austin, the crowd was wild, and the show was awesome. The first time I've seen people mosh to Prick. First time I've seen people MOVE for Prick.
Good job, Austin. I'm dreading the L.A. show. The Forum sucks. L.A. audiences suck.
nancy...proud member of "the best fucking audience on the whole tour"
---
Seattle/tacoma, washington
jim stoicheff (jstoiche@adobe.com):
The sound at the Tacoma Dome is terrible, though NIN was more affected than Bowie by the poor acoustics. It was difficult to even recognize some NIN songs because of the echo.
The NIN highlight for me was "wish." (Broken is my favorite NIN album.) "Terrible lie" and "closer" were all right, too. Otherwise the NIN set served mostly to overstimulate my ears. Listening to Bowie afterward was like trying to discern the nuances of a fine single-malt Scotch after being forced to eat a raw onion.
It was cool seeing Trent play sax on "Subterraneans." Otherwise it was a relief to get NIN off the stage and hear Bowie and his band alone. Bowie highlights began with "Breaking Glass." The updated arrangement of "The Man Who Sold the World" is terrific and manages to make the song work in this hypermodern setting. He said he was performing "Thru These Architects' Eyes" and "Strangers When We Meet" for the first time "because there are people here." He said he had to read the lyrics for these songs "like Michael Stipe."
"Night Flights" was an unexpected highlight. "Under Pressure" blew me away. Both featured vocals by the female bass player. (I don't recall her name. Me'shell something? She played on the recent John Mellencamp and Madonna albums. She's signed to Madonna's label.)
All of the Outside songs sounded better than on the album (which I think is overproduced).
---
Portland, oregon
pulp fiction (cek@gladstone.uoregon.edu):
NIN was ... a little bit on the mainstream side, but overall very good. I kinda wish Trent had played a little more variety. Everything was pretty much the hard guitar-oriented songs (which I love, but all of them in a row is another thing). But hey, on the road you have to use what works, I guess. I'm not complaining, though. Trent was fucking brilliant. It was a sad point when all the young freaks got excited and jumped around when he played "closer." What a thrill.... However, I really enjoyed the new drum beat he added to "sanctified"...cool.
Bowie was good, but the crowd was not into it. It is kinda hard to follow Trent. I guess that's why they did a few songs together, to kind of brace you for the change. I think the problem was that most people were very unfamiliar with Bowie's new songs off the Outside CD. That was just about all he played, and most people didn't even get into the really good songs. Bowie didn't play too long, and I don't blame him. The crowd cheered twice as loud for NIN, and a lot of people got up during Bowie's performance.
Overall, it was a weird mixture of having Bowie and Trent and Prick. Bowie almost sounded too mellow after Prick and NIN.
---
klint dixon (klintd@teleport.com):
Not as good as the rev-up at La Luna last year for the Self Destruct tour, but I'm not complaining. Prick was great (for those who got in on time), but it wasn't anything a lot of people had heard before.
Trent surprised everyone by just languidly walking out to the mike -- not enough smoke or something. What's with Finck? How long has his head been shaved? I love it!...
Has Trent been using those spaceship-type synths the entire tour? They looked really great -- small and durable. What's with his eyes? He must have had them shut for half the show. He doesn't like to look around like Bowie. Oh well, live long and drink tea....
Bowie was all right. Actually, he was probably great. I just didn't come to see him.
---
Los angeles, california
christine bomke (circe@cts.com):
For the very first time, I actually saw a "bible-thumping fuckhead" outside protesting. His sign was funny: "ASK THE LORD TO SAVE YOU NOW; TURN BACK BEFORE IT'S TOO LATE." Okay, so maybe you're not laughing, but I'm easily amused....
I was unimpressed with the crowd's reaction to Prick. If I were down in the pit, I would have been slamming my fishnet-clad ass off during "I Got it Bad."
"Piggy (nothing can stop me now)" was excellent live, and they actually DID play "closer to god." That song rules. Even if Trent sang the wrong words during the second chorus, it still rules. Oh yeah, and during "down in it," Trent tripped. If not for the risers at the front of the stage that broke his fall, I think he would have landed on a burly security guard. And MAN! were those security guards burly.
I won't comment on Bowie's set, except to say that I think his duet with Trent on "hurt" makes it sound like a Mariah Carey ballad. I did stay for the whole thing, though. He was nice enough to play "Under Pressure" at the end, which I actually got up and danced for.
I had fun. If Trent indeed decides to do a club tour after he's rested up for a few months, I'll be more than happy to camp outside Tower Records the day tickets go on sale.
---
jason levy (jlevy@csulb.edu):
"Piggy (ncsmn)" came off rather well. I was very pleased to hear "closer to god"; I've been looking forward to hearing that one live. (Unfortunately, the original "closer" was performed last night when I was in the pit.... I think that his tripping into the monitors in front may have been intentional, although last night he seemed to fall pretty hard on his side as his ribs met the monitor (ouch!).
I really enjoyed the pairing of Trent and DB. Yes, it did seem a little weird to hear Bowie sing, "She spreads her legs wide open to get the insects in (sic)," but it was quite an experience to hear their voices intertwine live. It was even better last night from the pit, being that close to Trent and the Thin White Duke as they harmonized. "Scary Monsters" and "Hallo Spaceboy" weren't too bad, but "hurt" was the most attention-grabbing event. Bowie's band produced a rather unusual version of the song; it had a very different fingering pattern given to the neck of Reeves Gabrels' guitar and was punctuated by an occasional bass note with delay added (although it sounded more like the original when the synth kicked in with the piano-sounding part). Bowie sounded pretty good, although I did find myself missing a few of the songs that he doesn't play anymore (and also slightly glad that I didn't hear a few of his more overplayed songs from the '80s).
For some reason, I was slightly surprised that Bowie didn't break with this tour's conventions on the last night and add an encore set. It would have been nice to see another Trent/David collaboration or two to finish off their playing time together. Well, I did get a cheap looking KROQ NIN/Bowie sticker and keychain (the sticker almost looks like a photocopy), although no $25+ T-shirts -- I've spent too much money on tickets this week to afford shirts that I've heard have already started showing up in stores for $15.
I couldn't even imagine Trent feeling up to going back on tour in a few months -- I hope he's lost his aversions to going back on the road by late '97! Oh well, he deserves a rest (and a chance to work on a new album eventually); better that he doesn't have the life sucked from him, so he'll continue to please us with his music. Hopefully I'll get some recordings from this tour to help tide me over (along with some more fond NIN memories).
---
michael malcangio (mikem@qualcomm.com):
Prick was cool -- I hadn't seen him live before. I was impressed with his screaming ability.
Trent's charge to the stage was cool, and I was caught rather by surprise as I was talking to the people behind me.... I must say the boys were a lot tighter as a band then the last time I saw them (about this time last year at the Sports Arena in San Diego). Bowie was good, but I just wasn't into like NIN...and I like Bowie.
An interesting point to discuss would be that Trent, whether intentionally or not, basically used Pink Floyd's "Set the Controls for the Heart of the Sun" for his new version of "sanctified"....
---
matthew klein (mugwump@hollywood.cinenet.net):
The whole dynamic between NIN and Bowie was most interesting. Here is a band that is quite popular and full of energy, with Trent giving all he has to a crowd thirsty for demolition. Then enters Bowie, up to the task of dishing out as much mayhem as anyone, yet something happens to transform the arena into an artistic playground where wild introspection falls way to more thoughtful showmanship.
It's an incredible gamble to go out and play obscure, new, uncommercial material to a younger, unfamiliar crowd. This is Bowie's first arena tour where he didn't give way to his crowd-pleasing hits...look at '78, when he supplemented the Eno material with Ziggy material; '87, when many Never Let Me Down songs were dropped for "Rebel Rebel," "Young Americans," etc; '90, when the whole thing was his biggest hits. This tour is unique.
...He pulls it off. My girlfriend, who is a very marginal Bowie fan and never really heard NIN before, called the Bowie section the best concert she has been to. It's the kind of performance where you can stand back and take it all in, energetic and mellow, artistic and engaging. (Not the most authoritative source, but hey -- I was surprised.)
His stage presence cannot be denied. Compared to Trent -- who also is incredible to experience -- Bowie is a performer who is magnetic to watch, blending rock and performance more finely than before because musically there was less for the crowd to hang on to.
Nine Inch Nails were solid, although lacking something compared to when I saw them four years ago at Lollapalooza. Then, they were a rock-solid machine on a mission. Now, although they started hot as the sun, it was not as sustaining by the end.
It's also sorta cool to see a variety of performers on the Bowie side, rather than the singular NIN white-boy lineup.
---
frank schwartz (frank.schwartz@agsm.ucla.edu):
While I find NIN's music very interesting, after seeing them live for the first time yesterday, I think Trent looks like an idiot and fake as can be running around the stage acting angry (or maybe just stupid). The whole look is way old, and acting all pissed off is yesterday's news as well. He needs a new image.
---
michael berry (byme36a@prodigy.com):
Well, yesterday marked the end of the tour, and the last time nine inch nails will play live in a while, probably. They played the same set they've been playing, with "closer" unfortunately being played instead of "closer to god." It was still a great show, and there were a lot of highlights. During "march of the pigs," Trent got bored, so he jumped onto a rope that was tied to the huge lights above him and swung around on that for a while.
But the best part of the show was during "down in it." During the whole show, Trent paid a lot of attention to the pit, which seemed fairly inactive from where I was standing, and he was always screaming the lyrics at them. Then, during the slower part of "down in it," Trent jumped right into the pit. I couldn't see what he was doing, but instantly four or five people ran over and tried to get him out. After they finally pulled him out, Trent ran right over to Charlie Clouser and completely clotheslined him and the keyboards and the two bodies went flying. After they got up, Charlie picked up the keyboards and smashed the hell out of them as Trent screamed the final words to "down in it."
As for David Bowie and Trent Reznor singing "reptile" and "hurt" as a duet...no. Maybe it was the British accent or just that I'm used to Trent, but I didn't like it. I didn't like the new beat to "hurt," either; it sounds better with no drums and just the guitar and Trent. "Hallo Spaceboy" and "Scary Monsters" did sound good, though, since it was more screaming than singing, like the NIN songs are....
I stuck around for half of Bowie's set, but I couldn't get into it because of lack of knowledge about Bowie's songs. I bought Outside and thought it was boring, so I left after a very weird song I recognized only at the end as "The Man Who Sold the World."
So now the tour is over, and hopefully Trent will work on releasing the live album and video -- and hopefully get a new album out in two years.
---
nancy of ambrewsia, inc. (nancyp@netcom.com):
By now, you've all read countless reviews of the shows and know pretty much the ins and outs of how the show goes. As did I when I went to this final show, since it was my third. So rather than being just another blow-by-blow account, this focuses more on little details or differences I noticed, the crowd reaction (or lack thereof), my personal reaction, and so forth. All those things that a professional music critic wouldn't bother with. Fortunately, I'm not a professional.
I entered the evening with a strange mix of anticipation and trepidation. Anticipation for the obvious reasons, of course; I get to see my beloved NIN again, for the third time in a span of a little over two weeks. And not only is it the last show, but it is also nigh on Halloween, the sacred holiday of freaks and goblins the world round, so who knows what sorts of treats might be in store?
But trepidation as well. Rather than being down in the thick of it -- with a college crowd at an outdoor venue, like I was in Austin -- I will be perched in a nosebleed seat among 15,000 others at the hated Forum. I have not seen a concert at the Forum in over 10 years -- having successfully boycotted large arena shows, where your chances of becoming swept up in the sound and the fury and the emotion of the show are almost nil, as you peer through binoculars or watch a video screen as if you were at home with your MTV. Only for Trent do I come here.
We arrived a little after 7:00, and there were long lines still waiting for the doors to open. We passed a large group of police officers getting a briefing in the parking lot and overheard them being told "about 40 percent are Nine Inch Nails fans." Forty percent? I don't think so -- unless Bowie fans have taken to wearing NIN and Marilyn Manson shirts and dressing up as The Crow.
Once inside, my worst fears are realized -- our seats are to the side of and even slightly behind the stage! About the only good things I can say about these seats is that I will be able to see Chris better than usual, and will get lots of views of everyone's butts. (Note to Bowie, Trent, Nothing, Formula, the Forum, and anyone else involved: It is a complete ripoff of the fans to sell seats in these sections. If this had been the only show I saw, I would have been REALLY pissed off.) The front third of the floor was blocked off as the pit, with rows of seats lining the rest of floor. The seats didn't appear to be bolted down, but I guessed (correctly) that this crowd would not be doing any rearranging of the furniture.
The pit was only about half full and the rest of the Forum even less filled when Prick launched into their set slightly after 8:00. Despite a solid set, the crowd reaction was typically quiet until "Animal" finally got the pit going. (Before that, the biggest crowd reaction came when a roadie in a clown suit made an appearance during "I Got It Bad.") Unfortunately, the sound quality, which had been surprisingly good so far, took a turn for the worse in a disappointingly muddy rendition of "Tough." They completed the set with "No Fair Fights," after which Kevin thanked Trent, Nothing Records, and David Bowie.
My boyfriend made some comment about "Animal" seeming to be an NIN ripoff, and I explained the relationships and influences between Kevin and Trent. But I do have to wonder about Kevin whacking himself on the head with the microphone during "Riverhead" -- exactly who started that trick?
After a 25-minute break, the smoke jets above the stage sprang into action again. Through the smoke, I saw a familiar figure with bleached blond hair sit down at the drums, then Robin came out with his once-again freshly shaved head...the audience screamed...Trent...lights..."terrible lie"... and you know the rest.
Despite a pretty tame crowd (almost everyone in our section was sitting. Sitting!), Trent thrashed around the stage with his usual abandon. A hanging chain had been added to the center cluster of lights above the band, which Trent used more than once to do his impression of a black-leather-clad Tarzan, sending all the stage lights into a swaying motion. An angled barrier at the front of the stage supported Trent as he leaned and crawled out over the edge of the stage; during "terrible lie" he lay backwards over the barrier and entertained us with a few pelvic thrusts. It was interesting to notice later that this same barrier was converted to a horizontal platform for Bowie, where he would stand in a very stately manner, singing out to the crowd. One of many contrasts throughout the evening.
The set built up to a crescendo with the sequence of "burn," "closer," "wish," and "gave up." "Burn" is the kind of performance that would give Bob Dole nightmares (or visions of more campaign contributions). A smoke-filled stage, glowing with orange and red lights, evoking images of the depths of hell. Trent screaming a litany of destruction, whipping the pit up into a frenzy. Awesome. The onstage mayhem reached its peak during "gave up," with I think only Chris escaping Trent's "attentions." "Down in it" was next, during which Trent apparently went beyond his normal trip into the "moat" and actually jumped into the pit (my view of this was blocked by the speakers). Fortunately, a damsel (a roadie in a dress) and several others leapt in to rescue the Trent in distress.
Then "eraser," into "Subterraneans." The back of the stage was very dark, and if I hadn't known to look for Trent playing sax, I would never have spotted him. About now it became clear that I was surrounded by Bowie fans, because the screaming really started. The woman sitting next to me, who arrived near the end of the NIN set and had been sitting with her fingers in her ears, started looking happier (though she kept those fingers in until "reptile" was over).
Bowie once again sang the beginning of "reptile" as "she spreads her legs wide open...." I keep wondering -- is that an intentional change, or did Trent never have the heart to tell his idol that he had the words wrong? Strangely, I found Bowie's voice very nasal and annoying in "reptile," so that it was a relief when Trent came in with the second verse. "Hurt" was completely opposite -- usually I think Trent sings it pretty nicely, but this time his voice was the whiny and nasal one by comparison.
The strongest image I have from the entire show is of Trent and Bowie singing together on "hurt." Bowie is standing tall and statuesque. He seems barely aware that there is even a microphone in front of him, holding it lightly in the tips of his fingers as he sings to the crowd. Next to him, Trent -- a smaller, wet, black-clad figure. Trent is hanging onto the microphone as if it is his only visible means of support, wailing up into it. Very strange...and yet somehow perfect.
At the end of "hurt," Trent waved to the crowd and then disappeared into the darkness.
At the end of "hurt," Nancy laid her head on her boyfriend's shoulder and received a comforting hug.
On to Bowie, which I won't really review, except to say that I did enjoy it more this time, having finally listened to the new album several times. There was not a mass exodus of NIN fans, but more of a constant trickle, with a burst of people seeming to leave after "Outside." Bowie went through pretty much the same set he has been doing, ending with "Under Pressure", and no encore. Before leaving the stage, he said that this was the last show of the American tour, and "on behalf of Trent and Nine Inch Nails, thank you, and God bless you."
I've read and heard various complaints that pairing David Bowie and NIN was a bad idea, that the performances didn't fit together, and so forth. Which in a short-term sense is certainly true. It was almost as strange a mix as David Bowie and Bing Crosby singing Christmas carols together many years ago. For NIN fans, it was not a true NIN show, and some found Bowie uninteresting and left. And I'm sure some Bowie fans found it punishing to sit through a NIN set. But in the long view, it was historic. Maybe these two will collaborate again, but maybe they won't. Their joint performance may be a once-in-a-lifetime experience. To me, their time on stage together was itself worth the price of admission. Well, that and the free NIN keychain....