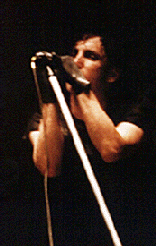 Raleigh, north carolina

mordent (morden@nando.net):

First take: Mindfuck city.... *big fucking grin*

Second take: Ninety-seven percent of both their sets went waaaay the fuck over the heads of the peons and Philistines... fuck 'em. Oblique references to Brecht and J.P. Witkin, Warhol and Burroughs -- both implied and explicit.

High point (for me): Trent and Mr. Zig alternating verses on "reptile."

For those of you who were debating whether this show is worth seeing -- it's only gonna happen once, and if you miss it, you're fucked.

Peace, love, and hot death to Senator Helms.
---
scott lydon (pyrimyd@ix.netcom.com):
I was down in the pit (about 10 or so feet from David and quite happy about it) and found it far more active when Bowie was on stage than when NIN was. Of course, that could be because the NIN fans were about 15-17 and a bit lackluster to be "pitty," while the Bowie fans were mostly twentyish and long since full of beer. But I did get to see a late-30s-early-40-year-old woman get passed over everybody's heads, and a 15-year-old jumped up in a pile to shake Bowie's hand. We all congratulated him when he got back, he was soooooo happy. Gives me hope for tomorrow....
---
bonnie p. (dbfan@aol.com)
I was there in the mosh pit too!... I remember the kid literally getting pulled off the crowd by Bowie...but I wasn't the 30/40-year-old who surfed (wishful, though). I was a 30/40-year-old who was getting a lot of looks from the teensomethings when I was pogo dancing and screaming as loud as they were. My husband was there too, he was wearing a Bowie hat and had a beard and glasses and you might remember him, 'cause he is fortysomething and was standing guard over his wife....
...The show was a carbon copy of the Nissan show, although I can't be objective about it 'cause I was in heaven from being so close. Bowie looks as good or better than he ever did. Maturity has made him even more physically appealing and his performance was funny, whimsical, fantastic.... I heard some dissension from some of the fans in the audience who wanted the greatest hits. Too bad for them. I don't understand fans who allegedly got into Bowie because he was so different, yet now they want to hear the samo samo instead of something different. His new material is fantastic (if he had "toed the line" and churned about 10 songs from Outside into a single album with no narratives and ambient music it would be a surefire "hit," but being different will probably cost him).... Heck with that -- Bowie is at the top of his game, and I know the tour will win him some new fans.
---
Atlanta, georgia
mitch goldman (mitch.goldman@turner.com):
Folks, the Atlanta show was absolutely amazing. Anyone who misses a chance to see this is crazy!
NIN's set focused on music and songs -- the theatrics were absent, but Trent and the boys were very focused and played brilliantly.
During the NIN/Bowie sequence, Bowie sang "Subterraneans"; "Scary Monsters" and "Reptile" were sung with NIN, "Hallo Spaceboy" and "Hurt" were done with the entire NIN band AND Bowie's band. (At this point there were three drummers and four keyboard playe rs onstage!)
Some of Bowie's classics were very rearranged and sounded SO different: "Andy Warhol," "Man Who Sold...," and "Joe the Lion" were missing their signature riffs. "Wildlife" and "Breaking Glass" were arranged identically to their LP versions.
Truly a fascinating, compelling performance for fans of both NIN and Bowie; together, they created a unique whole by combining their aesthetics. Of course, sitting in tenth row center may have made me a bit biased!
P.S. Mike Garson, Reeves Gabrels, and Carlos Alomar are three of the most amazing musicians you'll ever see on a rock stage...period.
---
ed nelsen (ejnstu@sun.cc.westga.edu):
It was great, but unfortunately Bowie forgot some of the lyrics to "Andy Warhol." Instead of singing
Andy walking, Andy tired
Andy take a little snooze
Tie him up when he's fast asleep
Send him on a pleasant cruise
he sang
Andy walking, Andy tired
Andy take a little CRUISE
Tie him up when he's fast asleep
Send him on a pleasant cruise
I was happy he sang the song, though. He seemed confused when he sang the wrong lyrics. But I guess no one else noticed (except my two friends, who were trying to sing along).

I liked the idea of Trent Reznor playing sax when Bowie came out...it was better than Trent saying "Bowie was an influence on me and my music."

Too bad Bowie didn't do an encore. I was disappointed there...but I did see Iman "watching her man" (excuse the pun to the Aladdin Sane album) and was dancing to a lot of the music...everyone had a good time. Bowie really arranged the songs differently, because I had to wait until he started singing the lyrics to know what the song was, and I know all his songs backwards and forwards.
---
lorax (djl2@netcom.com):
Just got home from the Atlanta show. Bowie closed with "Teenage Wildlife," in the Lakewood Amphitheatre with the full moon shining overhead...it was a very satisfying show.
...The show was so good I just had to tell someone. "Scary Monsters," "Breaking Glass," "Andy Warhol," and MWSTW were highlights. His new arrangements are really interesting. And the duets worked surprisingly well, especially "hurt." I'm not a big NIN fan, but the idea of Bowie playing stuff I hadn't heard live before tempted me to go, and I'm glad!
While I'm at it, I think the new album is his most interesting work in at least 15 years.
---
wolver (wolver@mindspring.com):
We had our little NINnie get-together at La Fonda about an hour late. (Life sucks, then you die.) Then we got moving and I went the wrong direction on I-20. Ten minutes wasted there, then there was Lakewood traffic from hell. After getting there, Robin had to wait for her photo passes. I did feel helpless as Prick was finishing up their set. (I really wanted to see them, too...oh well.)
The show was great. I got beaned in the head and neck with a water bottle thrown by Robin Finck. I then did my drowned-rat impression for the entire evening. (I didn't know those bottles held so much water -- and damn, I was so stunned that I didn't get the bottle. Cold water, hard plastic, and loud music. I was a deer in headlights.) But the band was great. I loved it. The pit was very mellow. That is, until Bowie came on -- then for some reason, everybody started moshing. Why? I don't know. I thought "wish," not Bowie, would be the mosh hit. Go figure....
...Security was really top-notch; I was surprised. They bounced some of the assholes pretty early. This one guy in skull-and-crossbone Spandex pants, who must have been 50 (or 40 with major drug use), got bounced during the second song for pushing -- shoving, really -- two women into the gates repeatedly. I kinda felt sorry for those with the mic retrieval jobs.
---
malinda mccall (mmccall@larry.cc.emory.edu):
I posted this to the David Bowie group and sent it to a friend who couldn't go. They said they'd "get medieval on my buttocks" if I didn't post it here.
Well, not in those words.
So, here. Hope you don't HATE it. I don't pretend to be an expert, but I guess you have to start somewhere. Oh, say, Garbage has mentioned Trent in the "thank you" section on their CD liner notes. Go Trent. :)
I won't go so far as to say "I can die happy now," but I had a good time. I'm actually a little nervous writing the review. Both Bowie and Reznor fans tend to be encyclopedic in their knowledge and extremely...how you say...fanatical? But usually in a Good Way. I like NIN but have been too lazy to learn the titles of the songs while the CD's on. Bowie, as some of you know, is near and dear to me. Bowie is fab. I even defended Let's Dance at one point, but I won't go there. It's not like that one gets the dust blown off it very often.) So I don't need to ramble on and on about how awesome Dave is, we've walked that walk together often.
I purchased Dave (La Zig)'s album, expecting Eno weirdness, and that's what you get. It's Eno weirdness plus that NIN thrash-industrial clank-clank groove plus angst. Now me, I like that. I can do without the cleva-cleva little interludes that add nothing to the CD as a whole. (A Bowie fan reviewing 1. Outside suggests programming your CD player to hit 1,2,3,6,7,8,17,19 only...same fan claims "A Small Plot of Land" is the most crap song ever [more than "Disco Duck"?] and that another track obviously has Eno's phone ringing in the background -- I'll leave it as an exercise to the Bowiephile to pick that one out...etc.).
But I like it. I daresay that hearing many of these tracks LIVE was the capper. Some just cry out for live audience interaction. (More on THAT in a second.) If you want the lyrics to these new Bowie songs, by the way, go to this WWW address:
http://www.liber.stanford.edu/~torrie/Bowie/Albums/O/Title.html.
Okay. Here's where I take a deep breath, and hope that NINnies and Screamin' Lord Zig fans don't get onto me for not gushing exactly as per their preferences. Lord help me if I leave out a song or make a typo. But here goes.
The concert was at Lakewood, which means you go annoyingly early, sit in the blazing light of day and have to listen to a band called Prick drop their mike on the stage and act miserable. (It sure must suck opening for NIN and Bowie. I feel your pain.) Further, you know that neither Bowie nor Reznor are going to want to foot a nice fine for playing after 11 p.m. and annoying the people foolish enough to live near a huge outdoor amphitheatre. So every moment Prick are on stage (and they didn't suck, mind you) is a minute you can't see the two groups that you paid your allowance to see. (Or, in my case, did without lunch in order to keep to my anal-retentively tight budget.) So the natives were restless. Mayhem was averted because the light confused them. The were too blind to thrash on Prick, just stood like deer in the headlights down in the mosh pit. (Digression: I remarked to my bud Cyndi Cyndi that I wondered where all the gothies and vamp children were when they weren't here, because outside of L5P, they are in short supply. Cyndi remarked that quite a few were in class this morning at her University swathed in pastel sweats saying something like "my F'in' GOD it's early...." *chuckle* Maybe you had to be there.)
The Royal Purple Prince Albert Fashion Slave award goes to Siouxsie Wanna in her shiny pink satin pants and eyeliner, etc. and her be-maned Sniff Otter (significant other) with his lurvely tatty leopard-skin coat and multiple face-ventilations. Dig that niobium lip ring, dude. Oh yeah, ObBlackHair, too: I was the only blonde head (unless you count La Zig) in the whole place. I might as well have worn a sign reading "I AM NOT AS COOL AS YOU." Maybe five, ten of those aubergine-burgundy-red hairdos that were so in last year, and a few baby-doll dresses -- but Siouxsie Wanna and Otter win for attitude and cleanliness. I thought they ruled. There was no "I'm trying really hard to be cool" attitude. A close runner-up was a young lady in an alt.music.nin hand-made tee with Reznor heaters pictured on the front (said "Gee Trent, is it hot in here or is it just me?" if I remember right. I only lurk on a.m.nin, so I have no idea who she was, but "hello."). Yes, she had the Arcadia-esque black hair.
Where was I before that completely off-topic digression? Oh yeah. Prick. Hmm. What a name. They should tour with Hole. That'd be the best bill since Flesh For Lulu/Fetchin' Bones/Skinny Puppy (if that truly happened). I briefly debated getting a sticker to put next to my Duran Duran Rocks Your Lame Ass sticker, but thought the humor might go unappreciated. I don't know enough about Prick to comment about what they played. They were okay. They exist by virtue of the fact that NIN is successful, I guess. Whereas NIN is saying I'M PISSED! THIS SUCKS!, Prick is more like wingewingewingewhinethisbitesimbummedimgonnagochewrocks. But they had some good hooks in their set, which is always impressive live. If you can get into the band that didn't rate enough to get printed on the concert ticket stub, you know. Someone who owns the CD has posted on a.m.nin that Prick sounded exactly like their CD, which is probably a compliment. Some video-screen problems during all this prevented much voyeurism. Couldn't see the performers' expressions. They were treated well by the crowd, though a fan from Detroit on a.m.nin poked some fun at them, claiming their big hit was "Hey Man, Nice Lunchbox (Sins of Omission Mix)". Thanks, Mark T., wherever you are. Your review was great! (Coke coming out of your nose hurts. Don't drink and net.)
NIN came (plural verb, as Trent Reznor is now saying that NIN isn't just himself anymore) on stage with minimal fanfare at about 8:30 or so. Just WHAM, and the lights go on and the crowd is standing there going...oh! cool! It's Trent.... He had been playing "closer to god," a different version of "closer," but the crowd was boggled by it so he swapped back....
Here is where I get hate mail for poking fun at Trent, but I got tickled at one of his favorite stage mannerisms: He doubles over as if he has abdominal cramps and hangs on to the microphone. Heavy angst! Actually, it looks more like someone punted a football into his groin. His other favorite position (when not damaging some poor defenseless piece of expensive electronic equipment) is the "crucify me and put me out of my misery" pose, with the arms out to either side, head lolling. Poor baby. Makes the rumors that he's just a regular couch-spud kinda guy when not on stage all the better.
This is not to say that he is not an intense stage performer. Hardly! He thrashes around and really gets into it. I'm surprised he hasn't blown his pipes out -- he doesn't hold back vocally. There is a really dark, angry vibe during each song, as a matter of fact -- you can see people getting all pumped up. Fortunately, no one was in a macho mood in my area, and the kid two rows in front of me was even more animated than Trent. Very cool. I thought his arms were going to pop off in his enthusiasm. Lots of hair-whipping a la Beavis and Butthead down front.... And he did not do "Hedge Like a Hog." (Oh shut up, I know.) Only nit: an annoying bug-zapper effect. That's it. The rest was great, even a few samples cutting in and out at what sounded to my untrained ears like unexpected places didn't mar the show. Huge crowd reaction when Trent began singing "down in it," other you've-heard-this-on-the-radio soundbites.
The segue was pretty nifty. See, Bowie's and NIN's bands actually swap out seamlessly as they sing each other's songs. The projector came on, showed random TV white noise/dots/maggots (ew!)/honeybees, and then "Subterraneans," a Bowie instrumental. Neat! Then you hear Trent playing sax (thing I learned recently: he played tenor sax in high school jazz/marching bands...), which really pleased the throng. THEN Reznor and Bowie do "Scary Monsters," which is flawless ... there are FEW songs that would have worked as well. A definite highlight, particularly when they traded vocals back and forth. The split screens started to work, and you saw this tiny little man all in black with this bushy black 'do all in his face, and he's all cramped over and looks very depressed, and Bowie is radiant in a light cream ensemble with light hair, and he looks eight feet tall and bulletproof. Yin and yang, baby.
The crowd goes ape-poop. Then "reptile," which was equally well done, and gave the techies something to do now that they finally fixed the big screens...lots of split-screen shots. "Hallo Spaceboy" from the new album sounded very good &agrave deux as well. But my fave duet was "hurt." (This is the vid on heavy rotation on MonkeyTV with the big viper head, etc. Thing I learned today: It was filmed in Omaha, Nebraska.) It's quiet enough for Bowie's natural (in my opinion) style to shine through, and it worked, simply put. What can I say?
Then La Bowie was up at bat, his band slowly filtering in as Trent's filters out...at one point there were literally millions of musicians on stage. Woo hoo! Well, slight exaggeration. But Carlos Alomar, rhythm guitar deity, was there. Who cares about the others? (heh) Sorry.
Bowie immediately grabs my attention (and thousands of other people's as well) by jumping into "Look Back in Anger." Oh god. That was simply the Nazz. *joy*. Some of us knew the words!... "Andy Warhol"! I NEVER EVER EVER thought I'd hear THAT one live. I'd only be more shocked to hear "Velvet Goldmine." (No, I take that back. The Least Likely Concert Song from Bowie is "The Laughing Gnome.") He did this herky-jerky puppet-like dance under a horizontal overhead strobe. This was a clever effect, amused the audience, looked killer. Then "Breaking Glass" (AIEEE! Another favorite!), and a reworked, slow-slow-slow "Man Who Sold The World." Retardo alert: the kids all thought this was a Nirvana cover. Sigh. I felt old. Then "We Prick You," "Joe the Lion" (if you had asked me to guess what he'd cover, this would not have been in the top 50 at all), "A Small Plot of Land" (lots of stage gimmicks, unfurling banners, lights, minimal crowd reaction...but Bowie did hit some of those notes BANG on, which will just shiver you any day regardless of the "crap" nature of this song [it grows on you, actually]), "Night Flights," "Under Pressure" (sigh, another Retardo alert: "Gee, now he's doing Vanilla Ice!" Sit down, Beavis, and buy a clue), then "Teenage Wildlife." Then BLAM, the end, no encore. Don't want to keep the little old ladies and their poodles from having a nice kip.
It's not as odd as you might think, Major Tom hitting the trail with Stimpy. Trent has said (most recently on some lame MTV thing with Bowie) that Bowie's '70s recordings really influenced him. I'm rather fond of the Eno stuff myself, so I'm happy to hear that. Trent remixed "The Heart's Filthy Lesson." Bowie was sampled ("falls wanking to the floor" from "Time" on Aladdin Sane) in NIN's "Self Destruction Part Two" (forgive caps).
There you have it. As short and sweet as I could make it, and I put as much NIN stuff in there as possible so you won't accuse me of being overly partial to the Thin White Duke. (Payback for the lousy version of "Putting Out Fire" on Let's Dance, which meant I had to go buy the Cat People soundtrack and listen to noises that sound like dying bunnies on side A. Still my fave Halloween soundtrack, though!)
ashley collins (acol@jove.acs.unt.edu):
This concert will go down in my personal recollections as having the most eclectic audience ever. Amid the sea of 13-year-olds in black lipstick and fishnet bodysuits were 40-year-olds in Dockers and Polo cardigans. Add to the mix the death-metal headbangers in "Slayer" T-shirts, and one can imagine the diversity of the crowd at the Starplex tonight.
I work for a radio station in Dallas, so I missed the Prick opener due to a contest we were sponsoring outside the amphitheater. The prize was a black T-shirt with "WORLD'S BIGGEST PRICK (fan)" emblazoned in yellow across the front.
Nine Inch Nails took the stage promptly at 8:15, with a spare set design. The show, as always, was very theatrically lit, although they toned down the annoying search-light-from-behind effect that leaves the audience blind. Earlier in the day, Trent raised some concerns (bitched) during the soundcheck, complaining that the mix was all off, and sure enough, through the first couple of songs the guitars were way down in the mix, barely audible over the tape machine's drum loops, bass lines, and synth pads.
After "Hurt" (9:45), NIN left the stage, leaving the rest of the show to Bowie and his band. At this point I had to leave and coordinate another contest outside, but I managed to swipe the setlist from the soundboard op after the show.... Bowie's set was made up of awkwardly posed mannequins and two signs hanging from the rafters: "STRANGE HAND NOISE" and "LISTEN TO THE LIMBS." I assume he's talking about applause, but what the hell it really means is anyone's guess.
I managed to get autographs from everyone except David Bowie, who wasn't giving them out tonight. Missing Mick Jagger, I guess. Trent went against stereotype and was very hospitable (my first time to meet him), and Chris Vrenna was reserved for the most part. Everyone did a convincing job of acting like they were thrilled sh*tless to be surrounded by fans taking pictures.
Supposedly the after-show party was at the Rehab Lounge in the Deep Ellum district. I didn't go 'cause I'm a promotions loser and had to drive our RV back to the station. Word has it all members of NIN and Prick were in attendance, as well as the national rep from Interscope Records.
---
tamara amthor (emerald6@ix.netcom.com):
The NIN show carried a definite emphasis on the music, not destruction. There was not a lot of the staggering around and falling all over the place, which gets old after a while. Trent played quite a bit of guitar, and his sax solo intro before Bowie came out was unbelievable. His tone was flawless, and as a former woodwind player (clarinet), I know how hard it is to get your jaw back in shape for playing such an instrument. I was pleasantly surprised.
"Wish" was the best song of the night -- I've never heard it tighter or played with more force. However, I got the impression that if Trent had his way, they'd never play "closer" again -- it seemed very obligatory and uninspired. (Naturally, every Biff and Bunny in attendance about creamed all over their respective selves when the drum beat started.) "Gave up" was good, but the fat guy sitting next to my boyfriend started spazzing out during it and I missed quite a bit of the song. *sigh* C'est la merde....
Now for the smut...Trent wore purplish/red leather pants and a sleeveless black T -- AND HIS BUTT LOOKED TREMENDOUS! He stuck it out, rotated it around, massaged it. Ooh, baby! Robin looked totally different, having cut his hair to a short blue/black 'do, and he's becoming a more integral part of the band, I believe. Chris was powerful as ever behind the drums (and didn't get beaned with anything by Trent!).
The stage was cool -- had a hospital-room look to it, with a single large white curtain pulled across the back and several low-hanging cluster bulbs which looked like examining-room lights. ("Put your feet in the stirrups and scoot to the end of the table....") I'm ready, Dr. Reznor!
...I thought the "Scary Monsters" duet with Bowie went very well, and "hurt" was MUCH less cheesy than I thought it would be. "Reptile" was okay, but Bowie played it up too much.
Ahhh, a great night. It makes me sad to think how long it may be before Trent comes around again....
---
mistress lily (landerso@acslab.acs.unt.edu):
I missed all but three songs of Prick, but from what I did see I have to admit that they sound a hell of a lot better live than they do on CD.
NIN was quite good. I did find it amusing how proud Trent is of his butt in those leather pants. I mean, it's a nice butt and all, but to keep squatting and wiggling it around like that...silly. Like no one would notice it otherwise. Someone needs to teach him some subtlety, I guess.
It was nice to hear "burn" live. I was disappointed that they've gone back to playing "closer" instead of "closer to god." "Gave up" was the high point of the set, as always...my neck is still feeling the effects.
But I think the high point of the show as a whole was "Scary Monsters." Wow. Their voices sound SO good together, and that song just fucking rocked. I could listen to just that for hours and be happy.
After Trent left the stage, though, the energy level just sort of dropped. Of course, I'm used to blowing myself out at NINshows, going home, and going to bed. And here NIN ended and I still had an hour of sitting to do. But Bowie is still good at what he does, and "Under Pressure" was great.
---
Austin, texas
robert perez jr. (rpjr7120@aol.com):
Prick
The sun was setting just over the trees behind the stage, as a cold front dropped temperatures into the high fifties. The smell of fajitas filled the air as concession stands prepared for the 18,000 people expected for the performances of Prick, Nine Inch Nails and David Bowie.
Quietly, Prick walked on stage and put on their instruments. Most of the crowd was either sitting on the grass or still coming through the gate when Kevin McMahon (vocals and guitar) started strumming his guitar, checking the sound. "I don't mind telling you, I don't mind," and with that the band jumped into "I Got It Bad." The stage was dark and dimly lit, but that seemed to add to the drama of Prick. Prick is McMahon, Sebastien Monney (bass), Chris Schleyer (guitar), Gary Hammond (drums), and Dave Ogilvie from Skinny Puppy (soundboard).
After a very receptive crowd sent their approval, Prick sneaked into "Other People." The song, once performed by McMahon with the band Lucky Pierre, almost did not make Prick's self titled compact disc. Kevin told us "...some of the things we (McMahon and Trent Reznor) did at Trent's studio like "Other People," for instance, we thought that was going to be just demos, but it was good enough the way it was." Some things are better left not disturbed, it seems.
The upbeat performance continued with "Riverhead." The slower song eased the audience a bit and gave way for some stagelight experimentation with the vocals. Every time McMahon said, "Red," the stage lights turned off, except the red ones. "Communique" led a few Prick fans in a sing-a-long. "Yes, this is it. This will be the night...." "A sign of a good night (performance)," McMahon mentioned, "is when the audience sings and knows the lyrics...."
The haunting and hypnotic "No Fair Fights" stopped the crowd from moshing and crowdsurfing. Time stood still for a moment, as McMahon captured and delivered the heart and soul of Prick. "Hello, frantic frauds of verse...." The low was quickly disturbed with "Tough." This song also appeared in an earlier Lucky Pierre EP from 1988. When asked if any other early material would appear in any future releases, McMahon simply said, "I don't know. I will know when I get back into the studio." And when asked when Prick will go back into the studio, McMahon replied again with "I don't know."
The set concluded with Prick's new single "Animal," the video of which can be seen on MTV. The performance featured a multi-colored array of lights, mainly green. At the end of the song, McMahon thanked the crowd and left. Austin was pumped, and they wanted more.
After Prick's performance, McMahon said that he "would like to find some of his earlier work (albums) with Lucky Pierre, if it were possible." If anybody could help, I'm sure McMahon would appreciate it.
nine inch nails
The last time Austin saw Trent Reznor and nine inch nails was about one year ago on the popular Self Destruct Tour. The savage Reznor looked as if he were on a one-way mission that would send him into seclusion for at least two years. But Reznor's fans around the States would not have to wait that long.
After seven months of rest and relaxation, NIN joined David Bowie as a special guest on the Outside Tour. What was supposed to be a support effort has become a series of show-stealing performances. Reznor's fans have been filling up every venue since the tour started on September 14 in Hartford, CT, and each time after NIN leaves the stage, about half of the crowd exits at the same time.
Austin would prove the opposite.
The stage was dark and smoke spilled from the corners of the ceiling and the floor of the stage. With the blink of an eye, NIN was there: no intro, announcements, or frills. The Austin crowd started to push and urge forward, as "terrible lie" drew the audience to their feet. In two seconds the calm turned into a tidal wave of people wanting NIN.
NIN are Trent Reznor (vocals, guitar, bass, sax, and keyboards), Corpus Christi's own Danny Lohner (guitar, bass, and keyboards), Robin Finck (guitar and keyboards), Chris Vrenna (drums), Charlie Clouser (keyboards), and Sean Beavan (soundboard). The madness continued with "march of the pigs." Reznor marched, pointed, and yelled. The power could be seen in his face, as Lohner and Finck strummed their now famous guitar parts.
"The becoming" started and was a pleasant surprise. The song featured Finck playing the acoustic guitar pieces that appear on the downward spiral. With a spotlight on him, Reznor grabbed his guitar and started to strum chords and play a couple of leads with an echo effect. The stage was set for "sanctified." The audience witnessed as NIN was hit with a series of long strobes that looked as if lightning was lighting up the stage. Every time the guitars would strum a blast would hit.
NIN's next number featured Reznor playing bass. The song "piggy (nothing can stop me now)" from their latest release, further down the spiral provided a refreshing sound to an old favorite. The maniac guitar playing of Lohner and Finck highlighted this performance. A sinister Reznor slipped Austin into "burn." This song was featured on the Natural Born Killers soundtrack and was seldom played on the Self Destruct Tour, but is definitely a highlight on this tour. The multi-colored lighting on this song inspired the feeling of a weird trip to Crayola land.
The original "closer," instead of "closer to god," was showcased in Austin. Reznor, who before the tour said he would not play the old number, has now sneaked it back into the set. Oh well, maybe Austin will get a chance later this year to hear the remix. After "closer," Reznor stopped the show to thank the Austin crowd's enthusiasm: "Thank you! You all have been the best f***ing crowd on this tour!" And with that the crowd roared, and NIN answered back with more fiery music.
The audience reactions were mixed for fan favorites from the EP broken. The pit was in chaos. A person passed out from exhaustion during "wish," and in the midst of "gave up," a male audience member threw his girlfriend onto the grass in anger. Despite a few episodes of violence, the majority of the crowd remained semi-civilized. Nine Inch Nails' first single, "down in it" from pretty hate machine, wrapped up their set. The performance was just a spring board for a deeper level of entertainment yet to be witnessed. The stage lights shut off.
Enter Bowie
A movie projector started and the images of bees filled the stage. The projection was reminiscent of the Self Destruct Tour, but not as long and time-consuming. All the members of NIN remained on stage, except for Reznor. "Eraser" thundered from the Reznor-less band. The song blended smoothly with "Subterraneans," which is featured on David Bowie's Low album. The song set a subdued mood that was very entrancing.
Slowly from the right side of the stage, Reznor reappeared playing sax. Almost simultaneously from the left, David Bowie walked to the center of the stage speaking the words of "Scary Monsters." The haunting sounds left the crowd speechless. Slowly and noisily, a few diehard Nine Inch Nails fans made their way towards the exits -- but tonight, as quoted from a Bowie representative, "this was the largest crowd to ever stay for the Bowie part of the show." To all who stayed, the performances will never be forgotten.
The stage changed. All the lights came on, and Nine Inch Nails featuring Bowie jumped into "Scary Monsters." Reznor karate-chopped his keyboard as Bowie smoothly stood there singing. Lohner played an acoustic guitar and Finck, off to the right, strummed an electric guitar. Longtime Bowie guitarist Carlos Alomar joined the group of musicians on stage, and the crowd was thrown into a frenzy.
As a few more diehards escaped into the night, the musicians played "reptile." Bowie cackled, "She spreads herself wide open...," and the Austin crowd could not help but be amused, but entertained, by what they were witnessing. Never did this audience imagine they would hear anyone other than Trent Reznor utter those familiar words. A mesmerizing spectacle occurred as Bowie and Reznor traded vocal duties. "Hallo Spaceboy" featured an amalgamation of the bands: three drummers, three guitar players, two keyboard players, Bowie, and Reznor.
The drums sent the crowd into a brief high, but as the song finished, the mood was set by Bowie guitarist Reeves Gabrels. Gabrels' echo-effect guitar leads rang through the Meadows. With a solo spotlight on him, the crowd was briefly detoured as the stage changed again. Gone were Lohner, Finck and Clouser. Reznor and drummer Vrenna were now the only NIN members with Bowie's band. The spotlight was on Bowie: "I hurt myself today, to see if I still feel..." and with that, started a series of traded vocals that left the Austin crowd quiet. A touching moment in a very disturbing song about self-destruction.
As the song finished, Vrenna's drum set moved off stage and Reznor raised his hand to say farewell. The crowd showed its appreciation with a thunderous ovation. Austin had witnessed history.
---
dawn (dawn@netropolis.net):
Trent on sax was WONDERFUL. I wouldn't mind hearing that side of him more often.... Bowie was good. I am not a big fan, but I stayed and enjoyed it, even though I was tired. That was the LONGEST concert I have ever been to.
I thoroughly enjoyed Prick, too.... I look forward to seeing them in concert again.
---
oskar kudla (odk3231@tam2000.tamu.edu):
Originally I planned to go to Dallas -- but they only had lawn seats when I called, so I decided to get general admission tickets to the Austin show. I got there early and was standing pretty close to the stage. It was great. It was almost as good as the February NIN show in Dallas (which I consider the best concert I have ever attended).
---
ched hays (ched@cs.utexas.edu):
To ruin a perfectly good post-concert day, I listened to 101X....
Man, they were dogging the show like you wouldn't believe. I was kind of pissed off. They called it pathetic and said that NIN fans just stayed out of respect for Trent.
I guess 101X missed the REAL show.
---
j spoken (jspoken@aol.com):
I was listening to that station on the drive into Austin -- they were having a lame call-in for "why you aren't going to the NIN show...." Don't get me wrong. I love NIN, saw 'em on Halloween last year in Houston -- GOOD show -- but it seems the Douche Jockeys at 101X really missed the whole point. NIN fans stayed because David rocked, pure and simple.