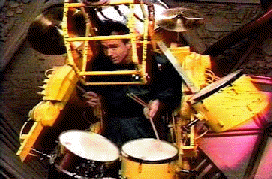 the story of a young heart
It began at the beginning, with the Gizmonic Institute for the Advancement of Naïve Science and one of its low-level employees -- a well-meaning janitor with a gift for gadgetry that he hoped would be his ticket to better things. Unfortunately, his talent came to the attention of the wrong people: his jealous bosses, who trapped him in a satellite loading bay and shot him into space in retaliation.

Soon the full truth of the mad researchers' depraved plan manifested itself. Through a fiendish Pavlovian routine based on grapes and electric shock therapy, they conditioned their luckless lackey against physical disobedience -- leaving the sadistic scientists free to monitor his mind, steal his ideas, and torment him with endless viewings of the worst movies ever made, for no other purpose than to find out how long he could stand it before going completely mad.

Yet all was not quite lost for our rebellious rivethead. With the defiantly lighthearted gesture of naming his orbital torture chamber the Satellite Of Love, he began his own form of organized resistance -- and even built his own recruits, a gaggle of wisecracking automatons pieced together from cannibalized ship parts. And from then on, he and his robot friends struck back with a vengeance, shredding the rotten cheese sent their way with their rapier wit and astonishing recall of schoolyard taunts and old television commercials.

There's a lot more to tell, but you get the idea. And if you're wondering why all the balloon juice wasted on this crummy story when I could have sent up a snazzy little show tune instead -- then repeat to yourself, "it's just a post...."
head like a hole (play MSTie for me version)
(intro: looped sounds of the SOL's multiple slamming doors, Crow repeating his own name, and Tom Servo hitting the high notes from "Let's Have a Patrick Swayze Christmas")
Mad science, we'll do anything for you
Mad science, 'cause we are evil through and through
G-magnet, pin Joel up against the wall
'Bye, boobie, you were okay now you're ess-oh-ell
We'll make you hate it
"The Hands of Fate" or
Maybe a flick featuring Steve Reeves
No you can't fake it
If you can't take it
Are these guys mad, or just slightly peeved?
SAID LIKE A JOEL
TRAPPED ON THE SOL
THIS SATELLITE
IS OUT OF CONTROL
Send up a big-bug film by Bert
We're gonna make this flunky hurt
Force him to watch "The Rebel Set"
Joel Robinson, we'll nail you yet!

Gizmonic's not looking at the screen
Gizmonic doesn't care what goes on down in Deep 13
Gizmonic, for mad science we will rifle Joel's brain
And when we're done he'll be insane

Don't eat the grapes -- it's
"Time of the Apes" -- it's
The shiny crew of the Bacchus 3!
SAID LIKE A JOEL
TRAPPED ON THE SOL
THIS SATELLITE
IS OUT OF CONTROL
Stay frosty, guys, and don't you whine
Cambot, get Rocket Number Nine
Who knew Mars looked just like the Dells?
Help me I'm in bad movie hell....

(instrumental break with Joel repeating "it's just a show" looped backwards over and over again in the middle of the stereo field and what sounds like a groaning synthesizer but is actually Gypsy saying "Richard Basehart! Richard Basehart!" through a flanger)

Turn down your lights -- now for a feast
Another Toho rubber beast
Now Crow and Gypsy and Tom Serv --
Let's give the Mads what they deserve!
SAID LIKE A JOEL
TRAPPED ON THE SOL
THIS SATELLITE
IS OUT OF CONTROL
Here comes a Red rocket attack
Even less plot than "Mighty Jack"
And we have Dr. F to thank
Will you just push the button, Frank?

(whispered part)

I should...really just relax
I should...really just relax
I should...really just relax
I should...really just relax
(whaddaya think, sirs?)

-- kt