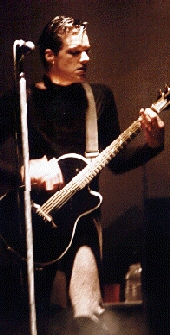 Camden, new jersey
sylvia (aivlys@netcom.com):
[DISCLAIMER: I've been a devoted Bowie fan for 20+ years, since the age of 10, and while I think NIN has a good thing or two to be said for it, I find myself frequently in agreement on the topic of Trent with, of all people, Courtney Love. I do, however, possess the downward spiral and broken. Groovy records. Not the religious experience most people find them to be, but competent in a rump-shaking, air-guitar, guilty-pleasures-of-disco kinda way. Anyway, here goes.....]
After 30 solid minutes of tinkly, new-age Muzak, concurrent with some 20 minutes of smoke and dimmed lights, NIN finally came on at 8:30 p.m. to a wildly enthusiastic reception. Little surprise there. From the preponderance of T-shirts and other sartorial decisions made that evening, it was pretty obvious going in that this was heavily a NIN crowd. The heavy chant of "Nine Inch Nails! Nine Inch Nails!" after Bowie closed the show and left was a clue for even the thickest skull.
Lots (and lots) of smoke was in evidence onstage, which I guess was supposed to be atmospheric -- but the NIN set seemed to be enjoyable in inverse proportion to the amount of smoke billowing onstage. Another detriment to Trent and the boys was the amount of posing. Another reviewer said that Trent seemed to have spent a lot of time doing rock-star mirror-posing as a youth, and I'm inclined to agree. How his bassist and guitarist escaped this astute critic's observation is beyond me. This was my first NIN show, and there was nothing that was a surprise, given even the small amount of exposure I've had to the clips and snippets frequently shown on MTV: the doubling-over on the keyboards for "Down in It", the hanging on the mic stand, the tossing of the mic stand, the nearly teetering keyboards, blah blah blah. SO intense, Trent. Puh-leeze.
Still, as their set wore on, NIN indeed proved an irresistible force. It was hard not to relax and immensely enjoy the aural fistfuck of alternate versions of overfamiliar hits, the great visuals on display behind the band, and straight-ahead performances of "wish" and the usually annoying "down in it" and "gave up."
From reading Usenet reviews, I knew that Trent taking the saxophone in hand meant Bowie could not be far behind -- and indeed, DB came on to provide vocal activity and ended up warbling the lyrics of "Scary Monsters" to the lilting, moody, spacey "Subterraneans."
"Scary Monsters" itself lived up to all expectations, and the Bowie/Rez pairing on "hurt" exceeded them. For all the repeated discussion on what this tour does for Bowie (and it clearly does a lot), this duet was the first shining example of what Bowie is doing for NIN. Instead of the melodrama and visceral exploitation of NIN's 1994 delivery (films of decaying animals, concentration camp victims, and the ways of the natural food chain -- ooooh, Trent is sooo sensitive...), David brings his three decades as a visual and physical performer to the service of this collaboration. It's obvious quickly that more stunning drama is found with the two main characters lit in the foreground than NIN could have ever dreamed of on their own. For those of you well versed in things Bowie, it was very, VERY "Bewlay Brothers."
It's the kind of chiaroscuro NIN are gonna have to discover soon, lest they become a bore even to the devoted. As viscerally seductive as the NIN set was, it was obvious after they were gone for 10 minutes that you can't carry on like that your whole career (let alone a whole evening) and create something well-rounded and satisfying. What this tour (and Bowie's presence) does for NIN in 1995 is not only make them part of a larger artistic whole for an evening -- with more integrity than they've been able to muster on their own -- but also gives them the kind of options for their future they should be desperately searching for at this point in their career.
The rest of the evening was classic Bowie, even when the songs were unfamiliar. Even if one were not privy to seeing the facial expressions and subtle movements which made Bowie so magical from my own vantage point (the mosh pit), there was still the raw power of his vocal delivery; his rock-star moves developed from decades in stadia; the sheer pleasure of listening to his musicians (Reeves Gabrels is here, as well as fellows from David's past -- like Carlos Alomar, M.I.A. since 1987) and his voice; the opportunity to hear "Andy Warhol," "Man Who Sold the World," "Breaking Glass," "Scary Monsters," and "Joe the Lion"; and the artsy-fartsy visual stuff that no one else could pull off.
(In the interest of full disclosure, I suppose it should be mentioned that not only was I in the pit, all the better to enjoy David, I also had the opportunity to spend the previous day listening to a six-track promo sampler of his new album -- I can't say what my experience would have been like faced with a half-dozen unfamiliar tunes in a row, up on the sopping wet and freezing cold "lawn.")
On the down side, the arrangement of "Teenage Wildlife" was so busy it threatened to split apart at any moment, and "Jump" was barely recognizable. As for the lack of "hits," it was my own conviction after only a few tracks that nothing could have ruined this show more than breaking into a hit like "Suffragette City," and the whole concept of an encore is rather silly. When you see this show, you'll understand.
For visuals, Bowie wisely uses the spaces on the VERY deep stage (drummer Zachary Alford looked like he was a mile away). A couple of the mannequins used in the HFL video have been transported to stage right. A movie marquee hangs in the left, as does a bound human figure which is turned around on an axis to reveal a pained expression during the song "Outside." A series of painted canvases (they've begun to crack after only a week of use) are released like shades by Bowie shortly before the familiar material begins.
The three standing musicians (Carlos, Reeves, and the bass player) do not do rock-star struts but move infrequently and subtly, like chess pieces. A table and pair of chairs which DB inevitably makes use of (isn't a Bowie show without a chair unthinkable? I'm sorry, though -- he KNOWS how to work a chair. Sheesh, I feel silly) are manipulated almost without notice, also.
In closing -- neither principal in this venture (Reznor or Bowie) has a thing to be ashamed of, rude audiences notwithstanding.
---
madam mina (slpb91a@prodigy.com):
I must say, even if J. Christ himself were there I'd never walk through the gate of the Sony Music Entertainment Center again! I thoroughly enjoyed the NIN show -- I saw 'em last December in Philly and was blown away then. But the Sony Center blows -- they made my beautiful goth friend turn in his bondage collar! Oh, yeah, like he was going to chuck it at Trent's head from the lawn section. And this bullshit went on in the pouring rain. That place is just too family-oriented -- it almost looks like Disneyland, for Chrissakes. The staff are total assholes. One was completely out of line by bitching at me for no reason when I didn't realize he was even speaking to me! I told him he was really nice and shot him the bird. So there ya go, my official dissing of the Camden Blockbuster/Sony Entertainment Center. Please, Trent, don't ever play at that shithole again!
---
john vettese (spex49d@prodigy.com):
That is exactly why I didn't go to NIN/Bowie in Camden: I saw Lollapalooza there and knew it was a shithole. I mean, it must be great for old-hippie concerts like Steve Miller and Santana and The Doobie Brothers, 'cause my friends who see them there say they wind up doing a lot of drugs and dancing out on the lawn all night.
But it is not the way to see a concert that is bound to have a good pit. Especially since the lawn is a fucking hill -- if you fall down, you roll down the hill and are never heard from again....
---
raeven (raeven@ix.netcom.com):
First, my exposure to Bowie has consisted of radio. I own not one CD, however have liked all the stuff I've heard. I mean, I grew up in Philly, and we were basically stuck in the '60s-'70s for a long time. So I know Ziggy Stardust and I was aware of the Glass Spider tour, blah blah blah. I wanted to see him too.
...Nine Inch Nails' performance was, unsurprisingly, amazing. Simply wonderful. I've only seen them once before, in November of '94. This time Trent was much less destructive -- he didn't break a thing -- and there was no rolling around on stage as there had been in Philly.
Might I mention at this point that Robin Finck with short black hair is a marvelous sight. He was dressed really sharp. Quite attractive. Danny has this little magenta thing going in the front of his hair, which is quite cute. My vote goes to him to be the Boy Wonder in the next Batman movie. Doesn't he remind you of Dick Grayson? Hm? Even a little?
Trent was -- well, Trent was Trent, and there's none other, and in black leather pants and a long-sleeved shirt and gloves and full of energy, he didn't disappoint either. There was even some brief synthesizer fucking at one point, while singing with Bowie.
...What we were disappointed in was that Bowie didn't choose more "up" songs in his set. I was delighted he played "Man Who Sold the World" and "Scary Monsters" and "Jump...," and I was bopping around with everyone else during the boppy songs. But there were such long clumps of slow songs that the audience just sat there and were lulled.
In general I was amazed that NIN's music was so, well, NIN-like. I would have sworn that Trent would have toned it down for the crowd. I'm glad he didn't.... And I would have thought that Bowie would have pepped things up a bit. Don't get me wrong, it was great music. Just not the music I would have chosen as an artist to play after nine inch nails had performed.
I'm glad I went in any case. I would go see it again. I just don't know if I'd stick around through Bowie's set.
---
casey harrison (casey@intnet.net):
Is Trent having fun on this new Bowie tour? He's usually miserable while touring, recording, or having anything to do with nine inch nails. Everyone seems to say that he looks happy on the recent interviews....
---
raeven (raeven@ix.netcom.com):
Well, Cthulhia swears she saw him LAUGHING whilst singing "hurt" with David Bowie on stage in Camden. I wouldn't know firsthand, because during that particular song I didn't get my sweaty little hands on the binocs she had.
If that means he's happy in general, who knows?... Performing onstage with Bowie still has to be quite a high for Mr. R.
---
eric vermeulen (erock@thunder.ocis.temple.edu):
Besides probably being the wettest (and coldest) leg of the Outside tour, it was well worth the rains to see NIN. From the opening of "terrible lie" through the duet with Bowie on "hurt," it was a transcendent event. I was especially pleased by NIN performing the "closer to god" version of "closer..." The remix of "piggy" was incredible.
---
elizabeth bouras (bourase@gm1.nigms.nih.gov):
I hadn't originally planned on seeing this show (waiting for them to come here to D.C.), but when a good friend mentioned she had an extra pit ticket and wondered if I knew anybody who would want it I about threw myself at her feet. (And to think even after I've regaled her with numerous stories of my roadtrips, including the three weeks following Marilyn Manson, she didn't think I'd drive four hours to see NIN and Bowie -- ha!) Needless to say I shall be eternally grateful to her for this opportunity....
Prick came on first and were great -- even better than when I'd first seen them a few months ago opening for Thrill Kill Kult, even though they played to a half-empty hall with whole sections of empty seats (that quickly filled up in time for NIN). I was very impressed by how Kevin handled himself -- I'm sure a lot of bands that haven't had a whole lot of exposure would have been a lot more intimidated playing such a large venue. My biggest regret was that their set was too short, as it was a half hour or less and I wish they had played longer.
Then came a half-hour set change during which Chris Vrenna wandered up to the stage to supervise, mostly unnoticed; the little teenyboppers off to our right asked him if he was from New Jersey. When he told them he was from Cleveland, they were too dense to figure out who he might be associated with ... we laughed our little heads off. (Teenybop attire of the night: Marilyn Manson shirts and backpacks, presumably to hide the "God of Fuck" shirts in so Mommy doesn't see them. Too bad the rain had washed much of the Kool Aid they'd used to color their hair onto their faces....)
Then the lights went out, the band quickly snuck on and opened with a great thunder of "terrible lie." We had some of the best spots in the house; well worth getting soaked to the skin in the rain, for not only were we in the pit but right on the rail hanging on the barricade with less than five feet separating us from the stage. We weren't able to get directly in the center ... so instead we were directly in front of Robin Finck -- in my opinion the most entertaining of the Nails to watch, as he has an amazing array of facial expressions, loves attention, and makes a lot of eye contact with the audience (unlike Trent). Not to put Trent down, of course -- and he looked DAMN smashing in those tight black leather pants, black T-shirt, and black gloves (which he took off early in the set). When he went over to the far right, where the younger set were, I thought it was the return of Beatlemania from the sound of their squeals!
...I think the high points were "march of the pigs" (loved the effect of the strobes on that song) and the somewhat revamped "sanctified," which had a kinda Middle Easterny flair to the music. I was perversely happy to see them replace "closer" with "closer to god" -- which of course confused the bandwagon jumpers who wondered where the "fuck me like an animal" song went -- and I thought the remixed version of "piggy" sounded a lot better live than on further down the spiral.
Thankfully the pit was VERY mild -- hardly got pushed at all, not crushed or bruised like I usually get from being in the front for club shows. During Prick and Bowie there wasn't even anybody touching me, so overall I was pretty amazed by the politeness of the folks in the pit (unheard of!). Only a few crowdsurfers went over me, and none of them managed to kick me in the head. The only damage I suffered was at the hands of the Pale One himself -- I have no idea what Trent threw but it hit my cheek HARD. Watch out for that boy's pitch! But no permanent damage, so I won't hold it against him.
After NIN's set Trent appeared with a sax (had no idea he could play that!), the band started into "Subterraneans," and shortly afterward Bowie made his grand entrance to a huge amount of cheering. (I won't guess what percentage of the audience was there to see who but it was probably pretty well divided, and Bowie has always had a very strong following in Philly). Bowie recited some of the lines to "Scary Monsters" rather like it was a poetry recital instead of singing the actual words to "Subterraneans." Then Trent joined Bowie on vocals and they did "reptile," a new Bowie song, and "hurt" together along with "Scary Monsters" (with Trent on keyboards right in front of us ... my friend is still reeling over being that close to Trent's lovely leather-clad butt). By this time members of Bowie's band had joined NIN on stage and both bands jammed together -- truly amazing, especially considering there were three drummers going at once!
NIN crept off stage under the cover of darkness (leaving many in the audience feeling cheated of their opportunity to salute and applaud the band). Bowie and his crew remained onstage for Bowie's solo set which opened with "Heart's Filthy Lesson." The curtains drew back to reveal the rest of the very deep stage decorated with many hanging mannikins (from the HFL vid?) and an odd hanging marquee that read "Strange K.O." and "Street Vulva." After HFL Bowie played a good half-dozen new songs from the Outside album. I deeply regret not having had a chance to hear the album before the show, but I really liked what I heard and some of the songs sounded even better than HFL. (Always a good indicator when other songs on the album sound better than that first single). Sounds like it will be his best album in a long time. Many of the new songs sound much harsher than his previous work, and sometimes that seemed a bit incongruous with his voice -- so I'm very curious as to how the studio versions will sound.
After the new songs Bowie played a number of older songs -- which alienated a large part of the audience further, as they were album tracks and not the better known singles. Many of these were very much reworked -- I for one didn't even recognize "Andy Warhol" until several lines into the lyrics. (This is coming from somebody who has been a HUGE Bowie fan since the early '70s, who's bought every release religiously and seen every tour since Diamond Dogs.)
Bowie was wearing the shimmery blue shirt and black, shiny, scaly pants from the HFL vid and came onstage wearing a black vinyl jacket that he removed after several songs. (Minute fashion tip -- he has one fingernail on his left ring finger painted blue to match his shirt.) He looks terrific for any age; I couldn't help but just hang on the rail while my brain reeled. "This is THE David Bowie"...thinking back to how I'd idolized him when I was a young teen. I'd never been that close -- and it was well worth waiting 21 years for!
So was it worth driving four hours (in the rain) for? Hell yes! Can't wait until they wind down this way for the Nissan Pavilion show on October 6th, and hopefully I'll have enough money by then for the embroidered NIN long-sleeve I covet....
---
daniel ambrose (dambrose@er5.rutgers.edu):
Don't get me wrong...I think both Trent and David are geniuses. However, I highly disliked the version of "hurt" they did. It was cool when they did other stuff, but...at least for me, "hurt" is a special song about being alone. It's all just very spare and that's what's awesome about it. A li'l too much production. They shoulda left that one alone.
---
bonnie p. (dbfan@aol.com):
I wasn't blown away by NIN; I was impressed, actually. I don't like their studio stuff that much, but they have one thing in common with Bowie: They are better live. The crowd looked sort of like I imagine Bowie fans looked 20 years ago. :)
---
philip obbard (cromwell@minerva.cis.yale.edu):
NIN put on a great show, and I too prefer them live to studio. I'm a bit disappointed in those Bowie fans who write them off as "a wall of noise." Tsk tsk -- that's what everyone called Low, Diamond Dogs, and Heroes 20 years ago, and that's what most critics are calling Outside.
---
charlotte-anne (linb@ix.netcom.com):
The Bowie concert was really cool (even though it was wet and muddy, although the moshing was fun). I didn't really like the NIN part, since I'm not a very big fan of them -- and now my mother wants one of their CDs...my mother!
david rusin (drusin@stevens-tech.edu):
Prick
Five-song set that was about what I expected. Lots of energy, though the crowd just kinda sat in their seats, awaiting Trent. The Prick songs were almost the exact versions on their album -- not much improvising at all.
nine inch nails
Man, I was like a compressed spring. I was ready to go fucking nuts. And I figured that everybody else was, too. I remember the November '94 show at Madison Square Garden. The crowd was dead for Manson, but when Trent came on, the place came to life. Not so here. What a bunch of deadheads (no reference to a late heroin addict intended). I'd say that at no point during the NIN set were more than 30 percent of the people standing, let alone moving. The pit was relatively quiet as well.
"Terrible lie" was gritty. MotP was long and emotional. "Sanctified" was definitely the highlight of the evening -- maybe the best song I've ever heard live. The opening dropbeat melted into that huge bassline, and the desperate lyrics followed beautifully. "Burn" was fiery and "closer to god" rocked my world. The broken tracks soared wildly as usual. Cool lights during that part.
Bowie came on after the "eraser" intro, and Trent jammed on the sax for about five minutes in understated brilliance. The film clip was great, too. NIN backed Bowie with an explosive version of "Scary Monsters." "Reptile" was next -- the Bowie vocals were a little incongruous with the song's painful message, but the lights were good. They did another song together and closed with "hurt." Bowie didn't do much for the song, which I think is one of Trent's most powerful live. Then Bowie came on for good, and I hit the concession stands.
One thing that stood out for me more than any other was the sedate crowd. As far as a NIN concert goes, it was dead. At MSG last year, everyone was standing, flying from rafters, and improvising mosh pits in the aisles. Not here. I was in a group of seven people that had half a row -- and we came to party down. MotP got me going, and "burn" slayed me. During "gave up," I hit the aisles and lost all control. I think all of Section 102 was staring at me when I was done. The people in back even asked security to keep an eye on us. Okay, maybe the aisle-moshing and sliding and jumping was a bit much -- but jeez, this is a NIN show for crying out loud! Sure I landed on my ass a few times, but I can take the abuse. And if the people behind me couldn't see, then maybe they could try standing. Bastards.
David Bowie
What is there to say? I left after about three songs, none of which I knew. Or cared to know, for that manner.
---
dj toell (djtoell@aol.com):
Well, it's a little after 2:30 in the afternoon following my night in the pit for Prick/NIN/Bowie. Amazing stuff. It was my first time in a pit...and to be about five people (plus a security guard) away from the stage was amazing. I had never seen Kevin McMahon before (no, dammit, I still haven't caught the "Animal" video), so that in itself was worth the beating I took down there. As soon as I got to the stadium, I went to the souvenir stand for a Prick shirt and promptly changed shirts in front of everyone. It was great.
For Prick's set, I seemed to be the only one who knew what he was singing.... Kevin seemed to have an obsession with his crotch, often pointing to it while singing, or grabbing it, etc. Probably no more than any other rock lead-singer type guy. Maybe from his music, I just expected a real quiet, laid-back guy.... Kevin looked good, though. And his performance was nothing short of spectacular. I hope to see him perform again sometime soon. (It was great when he pushed his hand against his guitarist's head as he sang "oh slave" in "Tough" -- stuff like that makes me want to go out and see him perform every night....)
Then there was a set change for NIN. In front of where I was standing was a young couple -- the girl said she was 18, the guy was probably the same age -- who both looked wasted and really horny. I think she was about to try and give him a blowjob when suddenly, the lights dropped and Trent ran out in front of us on stage. No "pinion" to get us excited or to warn us...just Trent and the guys on stage out of nowhere doing "terrible lie." I could see it all perfectly. In a few words, Trent's set was wonderful. No disappointments. If anything, I was in heaven to hear Rick Rubin's "piggy" remix played. And to hear "closer to god"...wow. I've always loved that song much more than "closer." "The becoming" was amazing, too -- as was "sanctified," which I had never heard live before. Seeing "gave up" was breathtaking, too -- not that I hadn't heard it live before, but I could really see him get into it and enjoy what he was doing. You can tell Trent loves that song. I'm glad he's not overly emotional about it enough to not play it in front of a crowd.
Everything was great...even Bowie. It sickened me that many people left when Trent did...or that someone said "go home" to Bowie as he was singing "hurt." The posting done earlier today by someone complaining about beer and Bowie's age was a prime example of what I mean. I was probably in the minority of people there -- no chemical enhancement whatsoever. I was there to see Kevin, Trent, and David play, not to fuck myself up and jump on other people. I could do that without those guys being there. And, of course, I could go into a whole rant about the fuckin' assholes not appreciating Bowie, but that would only fall upon deaf ears....
As for Bowie's set, again, I might've been the only one who was singing along for most of it. No one else seemed to have bought Outside yet...but I had gotten it on Tuesday (hee hee hee). He's captivating to watch.
I don't know if this lineup can ever be reproduced or outdone. Three acts that I most wanted to see were all there, perfectly within my view, and I enjoyed the hell out of it.
---
jake adamo (102744.2515@compuserve.com):
Bowie was really lame -- the fans here in Jersey were throwing things at him (both nights!) by the end of the show. He played all of his new stuff off of Outside (which was lame).
---
patchoulia (patchoul@pacifier.com):
This is an official flame.
I have been listening to Bowie for fucking EVER! David Bowie is one of the most innovative and influential musicians in rock history. If you assholes refuse to even try to appreciate what he has done to shape the course of pop music, THEN DON'T GO TO THE SHOW. And for the love of Christ don't be so FUCKING RUDE as to be screaming "Trent Trent Trent" throughout Bowie's set!
This is David Bowie's tour. NIN is OPENING for Bowie. GET IT?
I can't even comprehend the ignorance and stupidity of where you are coming from! It blows my mind! You obviously have never been exposed to any of Bowie's music beyond the '80s stuff that was on the radio back when you were still in diapers. Of course, Bowie's stuff is so far superior to most anything you've been exposed to that you probably wouldn't recognize its greatness. It's THE SHIT that Bowie and Trent have hooked up. They complement each other beautifully. And if you knew any fucking thing about Bowie you'd see his influence on NIN. And on a lot of other musicians, for that matter.
The world was NOT created in 1981 by MTV! So go back to your fucking thumb-sucking cool club and pound sand up your ass!
What would life be without Ziggy Stardust...or ANYTHING from The Man Who Sold the World (yeah, Nirvana covered the title track)...or Low...or his first album, which stands as a masterpiece on its own. God, you people are missing out on some truly genius music. Get a fucking clue before you start flinging the word "lame" around.
---
melissa ray (honeybee@panix.com):
Here I am, curled up at the keyboard in my way-too-expensive but cozy "ninedavidinchbowienails" thermal shirt, just back from the Meadowlands show. This was the first time I ever saw NIN live, so all you jaded people who want to bitch about how it ain't like it used to be should read someone else's post. I didn't give a fuck what anyone was doing around me, didn't care if my seats sucked, don't care what anyone thinks...it was perfection.
...Somehow, although I thought I was on time, I totally missed Prick. (I heard later that they played only briefly.) So I was sitting there waiting for Prick, and all of a sudden "Shit, it's Trent!" and the set took off like a New York taxi and never stopped. All nails were in fine form: Trent was very intense, and well-behaved (didn't break anything), and I agree with all previous posters about Robin's haircut, etc. -- he looks very hot.
I love the way they did "sanctified" -- it sounds very different and beautiful. Trent mixed up a bunch of lyrics in "closer to god" and didn't seem to care much -- he probably figured the MTV crowd wouldn't know it anyway. During "piggy," he spit once in my general direction in a generous and delicate arc. The fact that I got a thrill from this testifies to my delirious state of mind at the time. When I heard the saxophone, I got very excited, but I couldn't actually see Trent playing it from where I was sitting. It sounded great. I know I'm not saying much about the NIN set -- I sort of can't really talk about it yet because I'm so in love with it.
I felt that Trent treated Bowie with a great deal of respect and seemed very conscious of not pulling audience attention away from him (even if he couldn't help it). When they started "reptile" and Bowie was singing the lyrics, I thought, "He sounds good. It's okay." Then Trent started to sing, and that went out the window. It's not a matter of vocal ability -- more a question of emotional depth and performance style. Throughout the evening, Bowie was somewhat aloof and studied. That's not a bad thing -- but right next to Trent's from-the-core delivery of his own heartfelt lyrics, that style felt a bit vapid. Apart from that, being the honeybee that I am, I wanted to hear Trent sing "she leaves a trail of honey..." and had to settle for Bowie. Not as viscerally satisfying.
I really enjoyed the Bowie songs they did together. Trent was "playing" keyboards, which mostly meant slamming on a group of keys with the heel of one hand. Every once in a while, he'd reach across with the other hand and hit one key with his index finger -- with such great care and concentration, as if that particular note could come through the wall of sound and become the most meaningful. During "Hallo Spaceboy," he approached the keyboard from the side, suggestively straddling the leg (synthfucking, I presume...).
During "hurt," the contrast between Bowie and Trent was even more apparent. I did like the harmonies, although they sometimes sang them with the cheesy attitude of boys hanging out in someone's rec room, and it changed the tone of the song completely. I enjoyed seeing them do it together, and it sounded good, but contextually I think "hurt" is a solo if there ever was one.
Then Trent was modestly waving goodbye. Thanks to everyone who posted about previous shows. Knowing the set list kept me from being disappointed when NIN left the stage abruptly. As for Bowie's set ...two cool items:
1) He did "Under Pressure"! Unless I'm wrong, he hasn't done it before on this tour. After playing mostly songs from Outside for 40 minutes, Bowie said "You've been listening to a lot of new music, and I thank you for listening. Maybe for the first time tonight I'm going to play something you recognize...." The audience cheered, and Bowie launched into "Under Pressure," dueting with his bass player. Then he did "Joe the Lion" and ended the show, again with no encores. Bowie seemed apologetic...if this is the first time he's done the song, I feel that he added it after realizing that people find it hard to get into so many songs they haven't heard before. It still doesn't make any sense to me that the album release and tour were timed so badly. An advantage for the West Coasters who have time to peruse the new release first.
2) Yes, Bowie said FISTING! He was performing the title song from Outside, and my mind was wandering a bit. Suddenly I saw him make a fisting gesture in the air, and I couldn't believe my ears. I turned to my friend Dave and asked "Did he say "...the fisting of life?!?" When we got home, I ran to check the lyric sheet on Dave's Outside CD (purchased yesterday). Sure enough, there it was in black and white -- "...the fisting of life..." What can I possibly say?
I stayed for the whole thing and enjoyed most of it -- but in a certain way, Bowie might as well have been Slim Whitman. I was just sitting calmly, trying to take in everything I had just seen. I felt as if a circuit inside me has been completed, and peace settled over me...justified, purified and sanctified at last.
(A comment on this Trent-wannabe accusation against Bowie: Having heard the songs in concert and after a cursory listen of the CD, I think it is twisted and peculiar in a very different way from what NIN is doing. It's obvious to me that Bowie enjoyed performing with NIN, and that he wants to find a new way to relate to the audience, but I think he's going off on his own path. I haven't quite plugged into it yet, but I did enjoy many of the songs, even in my post-sanctification stupor.)
---
michael muyot (muyot@interport.net):
It was so fucking lame. First of all, you can't buy beer at the show because of the nature of the music.... It's a sad statement of society when you can't drink or smoke at a concert. I had to sit between yuppies and puppies. I wish Trent would get a fucking clue and just play music for the people who made him who he is today.
The only song that was good was "hurt." Because it summarized the entire show, hurting.
---
deborah cohn (dcohn@ypn.com):
The concert -- well, it was great, and depressing. Half the crowd were there to see NIN, which I have no problem with, I suppose. I really like Downward Spiral so, whatever, give Trent props. (Prick was good, but forgettable.) So NIN gave a pretty good performance, although industrial stuff in arenas is always a somewhat bad mix. I wish I had been in the pit -- the energy, not to mention sound quality, kind of dissipates as it spreads up from the floor. Trent is a kind of low-to-the-ground, crouchy performer, which really works when you're pressed against the speakers but doesn't when you're a few yards away. They did a number of songs from Downward, which were all rearranged, sometimes for better and sometimes for worse. David and Trent did amazing duets on NIN's "reptile" and "hurt," and then "Scary Monsters."
Then the trouble began. The energy of the crowd totally crashed as soon as the fucking assholes realized Bowie wasn't going to sing fucking "Space Oddity for the millionth time!... I hooked up with another fan on the bus home, and we bitched about the losers who can't deal with anything but "China Girl"....
This is for all the no-taste, Top-Forty, wouldn't-know-artistic-brilliance-if-it-kicked-you-in-the-head motherfucking sheep at the Meadowlands show -- go lock yourself in the bathroom with "Let's Dance" and play it until your fucking ears bleed; maybe it'll improve your aural perception! It shouldn't make any difference if you haven't heard the album; if you have a modicum of cultural aptitude and intelligence you wouldn't be so fucking afraid to go to a concert to HEAR MUSIC, not just show off to everyone that you can sing along to the greatest hits! David Bowie has been making music for 25 years; why should he sing the same 10 songs every time he goes on tour? HE'S SICK OF THEM! HE'S MOVED ON! GET OVER IT!
...Always the perfect showman, Bowie was in top form -- his voice was powerful, passionate, but again he couldn't help but reflect the crowd's apathy to some extent. The band was so tight and together, it was some of the best music I've ever heard live. They deserved so much more than they got from the audience, it's deplorable. The only thing David said the whole night was "You've heard a lot of new music tonight, thanks for listening, now I'll play you something you might have actually heard before." And of course all the proles were ecstastic about that. He went into a great performance of "Under Pressure" -- which I love, and which was a compromise, but not a sellout, thank God -- and some of the assholes in the audience actually strained themselves to cheer. I really hope he doesn't cave in and start doing the old stuff....
I have mixed feelings about this tour in general. Bringing NIN was probably supposed to cultivate a new, younger audience as well as the industrial crossover, because Outside is cyber-industrial itself -- but then you get a lot of Trent devotees who plan to leave after their set is over in the first place. And if this dwindling-audience thing continues ... even with the best of attitudes, the greatest sense of integrity in the face of the greatest-hit rabble, it's still a real downer when the audience doesn't give a shit. I must admit, my night was this close to being ruined by the lame audience reaction. I almost wished I hadn't gone. But if the true fans don't come, it will be even worse. So, I say, do your duty and go. Bring as many fanatics (and/or Bowie virgins interested in avante-pop) as you can, and scream your lungs out for him. He deserves it.
---
brendon macaraeg (bqm1808@is.nyu.edu):
I was also at the Meadowlands show ... I agree totally, but I think your venom is a bit uncalled for.
Let's face it: Bowie has cemented his place in rock and roll history and can do anything he wants. But it's tough, even for a real music fan with an open mind such as myself, to get into new songs you've never heard -- which is a pity, 'cause I really did like what I heard. And I bet I'll wish I could see the show again after listening to the new LP.
As for NIN: enjoyable for what it is -- aggro-techno-Prince-on-steroids, which is great in small doses.