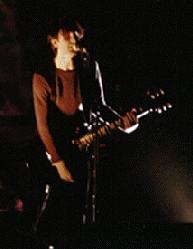 Cleveland, ohio

pete chakerian (fw207@cleveland.freenet.edu):

Up front, I must say that this show was a great deal better than expected. Having seen NIN five times previously, they were not the main reason behind my acquisition of tickets. Having missed David Bowie on both the Glass Spider and Sound+Vision tours was a far greater motivation. And as much as I find Kevin McMahon's Prick album to meander a little too far from the thread a debut should have, I wanted to see what he could do, as well. People had been raving at his previous Cleveland shows (e.g. the Alternative Press 10th Anniversary Bash and the WMMS Buzzardfest). All that said, you could have sneezed and missed McMahon. I caught "Animal" and "Communique" (an old Lucky Pierre song, for those of you curious enough to post about them) before he was gone. A little traffic can kill a 25-minute set. But I digress -- what a show to get 25 minutes worth of playtime, right?

It wasn't too long before Trent was running across the stage, ready to give the crowd a dose of his brooding medicine. He and the rest of the NIN touring unit opened with "terrible lie" and spent a great deal of time confounding the standards from the Self Destruct tour. This was a minimalist's NIN show, with surprises. "The becoming" was quite cool to hear, as were the unusual renditions of "closer," "eraser," and "hurt" (which Bowie sang on -- how completely fucked up!). What's more, you couldn't help but laugh at the properly English Bowie singing the lyrics from "reptile." It was pretty funny. The Trent/Bowie collaboration on "Scary Monsters," however, was fantastic.

Bowie himself was far more suave than Trent, who left his keyboards intact this time. He played most of Outside with panache and spirit, and only offered "The Man Who Sold The World" and "Under Pressure" as "recognizable oldies." There were a few others, but naturally, Bowie was true to his creative muse and did whatever he felt like.
---
Chicago, illnois
gregory marchant (slynin@ix.netcom.com):
A few early morning late impressions of the Chicago show:
Traffic: What an incompetent bunch of disorganized idiots! Coming in and, worse yet, going out.
Prick: Got there about halfway through the set (see traffic note above) and didn't feel like I missed all that much. Better than Pop Will Eat Itself though (warmup from last tour).
Nails: Was close enough to see the boys this time. Awesome. Trent went nuts during "down in it" and declared war on the stage, taking out a guitar and a couple of band members. This was the angry face of rock and roll at its finest. How does he keep that level of energy up?
Bowie: His somewhat stoic presence seemed a bit out of place after the devastation that occurred before. "Scary Monsters" rocked, as did "Hallo Spaceboy." The "hurt" duet was magic. The Bowie set did not follow the order of previous set lists, but of most interest were the omissions due to his poor health: "Joe the Lion," "Teenage Wildlife," and "My Death" were missing. Although he demonstrated good energy and his theatric charm throughout, he was obviously struggling to keep going at the end.
Exodus: I had heard a lot about the mass exodus after Trent leaves. Although I was pretty close to the stage, I didn't see a lot of folks leaving, and most that were there seemed to enjoy the show. As he was approaching the end of his abbreviated set a few people were hitting the road, but I would attribute that more to previous experience with the traffic situation at World than anything else. True, the tone of the show was different with Bowie, but still entertaining.
It is worth the trip anytime you see Nails, and Bowie was an added benefit.
---
statograce (statograce@aol.com):
DB played an awkward 1:15 minute set tonight, stopping after "Night Flights" saying, "I'm sorry, that's it, good night." Earlier, he stopped and restarted "The Man Who Sold the World," stating complaints about his voice. Having seen every U.S. Bowie tour since 1976; this was an extreme disappointment.
I could go on about the weird choice of NIN for an opening act (given their superior popularity these days) and other notables, but I'm so disappointed right now that all I want to do is warn fellow longtime fans to save their money.
---
j. salazar (gleep@miso.wwa.com):
Give the man a break, he was performing with the flu. I know when I have the flu I can barely walk -- let alone get up on stage with (and keep up with) Trent Reznor, then go on to play a set of my own....
The most disappointing part of the whole show for me was the fact that so many of the younger attendees were there JUST for NIN and left as soon as Trent left the stage. After that, the audience that was left was pretty dead. David didn't have much to work with.
...About David appearing with NIN -- our beloved idol is always out to keep up with the times and retain his youth. I think he is doing a fairly good job of it.
---
statograce (statograce@aol.com):
There were many bad things about this show: the crowd, the venue, the brevity of Bowie's performance. I respect DB for challenging himself by opening for NIN's fans (we of the DB persuasion were sorely outnumbered). His song selection was fabulous and, as a prior note pointed out, it was impossible to tell he was ailing aside from the restart during "Man Who Sold the World" and the show's sudden end. Seeing Mike Garson and Carlos Alomar was a joy, as was the surprising inclusion of Zack Alford on drums (who played on the last Springsteen tour).
I hope Bowie considers returning to the United States to play HIS shows in more accommodating venues and advertising the character of the song selection. It would be great to see him in a medium-sized hall (I think he can afford it) before an audience of fans either familiar with the cutting-edge choice of songs or willing to let themselves go in the name of exposing themselves to new and challenging material -- those were his first fans, after all. Outside is a timeless, fabulous album, something I know I will go back to for years to come. It deserves something better than outdoor venues with drunk adolescents falling down a grass hill.
---
fyrie (fyrie@aol.com):
I thought Prick to be the average industrial B.S. On the other hand, I was really impressed with NIN (and I don't even especially like them). Bowie rocked my world, even if he cut it short. I was really happy to hear the songs from Low.
---
oliver korioth (f-rizzo@ix.netcom.com):
Basically, it comes down to this...NIN was great, so was Prick...but Bowie was a lamo. Yeah, the tunes they played together were really impressive...but once Trent left the stage the energy also left. Then after a painful set from Bowie, who was constantly apologizing for having the flu, the show abruptly ended at 10:45, without any warning or a finale. Nuthin', just the house lights flipped on and most of the crowd was standing around wondering what the hell was going on. My advice to NIN fans at future stops of this tour: You can leave after Trent and Bowie play together.
---
cortland d'ivorywood (cespich@nyx10.cs.du.edu):
Agreed, Prick was great. Agreed, NIN was great. The show was brimming with a raw intensity that made me just wanna thrash. Trent was putting so much energy into the first part of the set, he had to ditch the first verse of "down in it" because he was out of breath. Or maybe he just forgot the words. (Trent, lay off the booze.)
I could be wrong altogether. I was busy kicking the snot outta some twerps up on the lawn. (Is that blood on my boots?) Advice for you people who were behind me: Don't push me in the back when you're getting your little crappy lawn pits going. 'Specially after I've had a few beers. You're going to get thrashed.
Anyway, I have to disagree with your Bowie review. (Very eloquent review, by the way. Well thought out and put together. *sarcasm*) I was rather disappointed with the show. Oh no, not with Bowie, but with the crowd. After Reznor walked off stage, half the crowd bailed. How rude. And I happen to think it was a good set. Plenty of energy there. Just not the same type of energy as the NIN set. I was up in the lawn groovin' and swillin' expensive domestic beer (oh yuck) with a huge group of people. Fuckin' party.
Bowie's human. 'Nuff said. My advice to MUSIC fans at future stops of this tour: Stay for the whole show. I loved it.
Corey's Review Of The Pit (Against The Rules) Up In The Lawn:
*bam* smashed in the back
*pow* elbowed in the back of the head
"Oh, now I'm pissed. Hold my beer."
All in all, not a bad pit, if off to a bad start. My roomie, Carrie, was probably the only chick in the whole morass of writhing heathens, and she got the shit kicked outta her. I'm not sure if I did or not. I'm hopped up on painkillers. Heh. Ditched once, got pushed backwards over a prone (dead?) body and fell all the way back. Two seconds of downtime, yanked to my feet by kind, attentive souls. Beer spilled all over me. My hat trampled on. Typical. One tiny little tear in my Prick shirt. Oh bother. Heh.
Summary: The show fucked my world up. Go see it, if you can get tickets.
Oh yeah, surprise of the night: Tickets were still left when we got to the show. My friends who didn't have tix and stayed home hate me now.
---
rob lurie (woolf@music.cc.uga.edu):
Most people on here are huge NIN fans (obviously), and some of you are giving Bowie a curious listen to find out why Trent's so hyped on him. I'm the opposite: I'm a big Bowie fan who never thought much of NIN, but because of these new collaborations I've been re-examining Trent's music and finding something there I hadn't seen before.
I think that's the best thing we can gain from these collaborations. All this talk about Bowie copying Trent is a bit moot if you look back over the groundbreaking work Bowie did in the late '70s. Trent has done everything but claim Bowie's Low as his bible. The collaboration on tour is giving Trent a chance to flesh out his music and explore the dynamics of his talent, adding other colors to his usually exclusively dark palette. For Reznor to continue to be relevant as a musician, he will have to broaden his stylistic range, which he is quite capable of doing, and he has stated that this is his ambition anyway.
The same is true for Bowie. Letting Reznor come in and remix some of his songs has given him an edge that he needed. Trent has been causing him to re-explore the darker tones in his new music. I haven't heard the new Bowie album -- but like most Bowie, I'm sure it will require a few listenings to be rewarding. I like what I heard in Seven, from Trent and David. I'm looking forward to new NIN music as well. Where is Trent going as a musician and songwriter? Where will he be in five years? Hopefully he will continue to be innovative. I'm excited. Just some thoughts.
---
lisa wermes (usxz32a@prodigy.com):
The pit was the best. How 'bout those two chicks with the beers causing a shower? I tried to get a glove but got bumped by dudes. It was my first time in the pit, but it seemed kinda lame from the other shows I've seen. Maybe because every security guard in the world was there pulling people out....
---
jerry billups (pudundi@gatecity.com):
Prick was great. NIN defied all my expectations (I loved hearing the "closer" and "piggy" remixes done live). Trent on sax just made me want to fade into nothingness. Trent and Bowie were excellent, Bowie alone was okay...he was a good dancer, though.
---
christopher palmisano (topher@ripco.com):
I tell you it was the best five hours of my life. NIN was the best, and Bowie ruled. It sucked that he didn't play "Fame," but Trent made up for it. Killer concert. Go see it.
---
craig sturdivant (csturdiv@evansville.net):
I had more fun at this show than I did during the last tour. I kind of hated the Bowie/Reznor duets on "reptile" and "hurt." Bowie slaughtered the songs, but Reznor saved them when he joined in. I loved the set list -- hearing "burn" live was well worth the $28.50 for the tickets. "The becoming" also sounded great. I loved hearing the remixed versions of "piggy" and "closer." It was kind of funny watching all the confused people in the crowd.
Out in the middle of the lawn seating, there were some stupid fuckers moshing to "hurt"! What's up with that?!? I wasn't too pissed when Bowie left the stage because of the flu symptoms...since we were already walking towards our car when he was getting ready to call the show. I also liked the slower version of "sanctified"...I liked that "jazzy" sound to it. Prick sounded great -- their best song (with crowd reaction) was "Animal."
Who were those guys who played before Prick? They sounded okay -- not great, but okay.... I've heard they are some former members of Tin Machine. They played four songs, so if you blinked, you missed them.
---
jim kelly (jimkelly@mcs.com):
Whoever opened for Prick was actually pretty cool -- I wish I knew who they were. But after them here came Prick, and they were great! I hope I get to see them again. Much better that I thought they would be, being a relatively young band (well not really, but you know what I mean). Everyone got really excited during "Animal," because that's the only song they really play on regular radio hours -- unless you listen to Q101's Alternative Beat with Zoltar; they play a few other Prick songs.
Boom puff there's Trent. Yes, he was brilliant as always. I love the remix version of "piggy" he played ("nothing can stop me now"). He also played "closer to god," which I especially loved live because it confused all the posers, hehehee. Trent performed with a fair bit of energy. In some reviews, a few people said he was lacking in intensity and emotion. I didn't think so with this show -- sure, he didn't break too much stuff and throw shit at people, but he was awesome! The duets were breathtaking! I'm also a Bowie fan and have always been, and I have to say that the Trent/Bowie combination was great. It was also great to see Trent play the sax. Bowie did not at all detract from the song; he was great!
After NIN is replaced by Bowie's band, it's time for Bowie to get to work. I was really saddened to see a large group of people jetting out of the place. They really missed out. I came with a few friends; they weren't really into Bowie and just sat down. Not me and my girlfriend; we remained standing. Bowie did a great job. I wasn't familiar with most of his newer material because I have not had a chance to pick up Outside yet. I was very impressed with David's performance, he was nice and fresh, not at all out of date. I know I will be seeing him again.
---
peter denk (pdenk@niu.edu):
This was the fifth time NIN played Chicago this year, and it was the definitive show as far as I'm concerned. The music sounded great, and it seemed that Trent made a discernible effort to make it that way.
Five chandelier light banks hung some 10 feet above the bandmembers' heads. Their backdrop was a white velvet curtain. The black-clad band members contrasting with the white background gave an impression of elegant simplicity. Perhaps it was a result of touring with someone of Bowie's prominence, because when compared to their previous sets, it was refreshingly minimalist.
What made this show stand out from their others was not only the overall quality of the songs' sound, but the new versions, twists, and turns that Reznor implemented.
The new version of "closer" was the high point of the show. It was a minute or two into the song before it drew the crowd recognition that such a radio hit is usually given. The presence of a certain four-letter expletive ensured the removal of the thin veil Reznor had devised. The "piggy" remix was also good.
When Reznor smashed his guitar to pieces at the end of "gave up," it was less a contrived act than a spontaneous outburst, unlike previous NIN shows. Past shows too often reeked of excess. But when Reznor threw his mic stand into the air and stomped around in circles during "down in it," it was apparent that there had been no stunt rehearsal this time.
Proving that he hasn't been spending all his time brooding and buying old funeral parlors, Reznor even played the saxophone during the new instrumental. It was with Reznor at the back of the stage playing his sax, that Bowie made his first appearance of the night. They played Bowie's "Scary Monsters" and "Hallo Spaceboy" and NIN's "reptile" and "hurt." Bowie didn't sound so hot on "reptile," but "hurt" was pretty good. (They even harmonized.)
I thought Prick played well considering the setting. I'd like to see them in a smaller venue. Their set list: "Communique," "Other People," "Riverhead," "Animal," and "Tough."
Bowie said, "I've got a bit of the flu tonight...I'm sorry." He performed for less than an hour with his band.
---
rushnin (rushnin@aol.com):
NINEDAVIDINCHBOWIENAILS was one excellent show -- the people who left after NIN really blew it. Shame they must be so closed-minded. However, that meant it wasn't so crowded on the lawn and we had a much better view.
---
chris wiberg (wiberg@ux4.cso.uiuc.edu):
I loved the duets. I think some "NIN purists" may have been upset by the "desecration." Fuck 'em. Personally, I like hearing new interpretations of the songs, rather than the exact same thing over and over again until it's dead.
---
jefferson k. porter (iffuzzy@interaccess.com):
October 1 in Chicago: Bowie was utter crap. First of all he had the flu, so rather than giving people their money back he soldiered on with a voice that alternated between a Cockney whine and a gasping radiator. Then he did a bunch of stuff from the pretentious new album -- 75 minutes of audio glory and not a melody to it. Then he fucked up "Andy Warhol," "What in the World," and "Breaking Glass" with "musicianship": concrete drums and guitar solos. For those who remember, "Breaking Glass" was one minute and a half of existentialist glory -- last night it was four minutes of some granddad wanking extensively on his guitar. Bowie had a terrible haircut -- an unwashed "Let's Dance" number -- and this outfit that was a cross between a Moroccan souk merchant and a hospital orderly.
The stage was a void of pastel colors and last season's Macy's mannequins -- I swear the mannequins were more alive than the band. I felt sorry for Bowie actually, especially after he was set up for a fall by Trent Reznor, who had Bowie do a Dean Martin version of "hurt," or whatever that hit was, and then leaving the stage. Did anyone catch Bowie on the PBS "Rock and Roll" series -- wasn't it magnificent? How far they fall.
There was a redeeming moment when he sang a guitar-less, affectation-free "Man Who Sold the World" -- a lovely soft croon, almost ambient. Of course the crowd loved it, because it's a Nirvana song. I think Bowie was trying hard to step out of the cliches, but the fact is he can't and he should give up trying.
Worse yet was nine inch nails -- or was it the Scorpions, I couldn't tell.
---
bones (bones@ripco.com):
Well, now that I've had a breather I guess I can offer up thoughts on good ol' Trent and the NIN/Bowie show and all.
But, yes, after a brief yet expected moment of knowing that somewhere along the line Interscope and Co. would screw up the photo pass thing, and then having to bring the camera back to the car afterward while dodging cars that wanted to run down the two industrial goths, then finding an entrance to go in, Gnat and I finally got our seats while merely "overhearing" Prick play. But at least the seats they had for us were decent, a mere 18 rows away from the stage off to the left a bit. No, contrary to what the plaid-head girl next to us thought, they weren't all that bad.
And how about that anticipation for the show to start? After we got our seats, Gnat and I went to hunt down some a.m.ninnies, and lo and behold we found two of them, one sporting that nifty "Hi, I'm Trent, Computer Engineering, Mercer, PA" shirt with the "fist me" thing and an upside-down NIN logo on the back. Hmmm.... After being social for awhile, the show seemed imminent, although people seemed to take to cheering everytime the fog machine was tested. AWRIGHT!
So Gnat and I headed back to our seats and soon thereafter, Trent appeared seemingly outta nowhere with the rest of the guys and pounced directly into "terrible lie." Kinda cool, although that song isn't exactly my fave. "March of the pigs" was kinda cool, and the "piggy" remix was also cool considering the original version was not really something to shake a 10-meter cattle prod at. So it was a welcome change. "Sanctified" was a truly great surprise, as in the many times I've seen NIN, I've never seen this song live. It was kinda moving, bringing back memories of old. "The becoming" was also cool to hear -- and it was kinda impressive to see their keyboardist playing drums along with Vrenna, and Danny playing both guitar and bass along with keys, albeit not all at once. Vrenna's and Finck's hair was growing in. Kinda cool in itself as well, but hey, I'm just climbing for dollars.
The remix version of "closer" was really destructive, especially since it's such a change in pace from that Motown-sounding version. "I wanna vacuum like an animal," or is it "Grip you like a bowling ball?" I can never tell and I always get a hangnail. Anyway, Reznor also added on "wish," which somehow clicked with me since I was hoping for "sin" (which I think might be my fave PHM song). "Wish" just reminded me of many times when I was just plain peeved and it was strangely a nice memory. I kinda just lost my head at this point and was banging it around more than oft, to the point that the Martin Atkins-like top knot that Gnat put my hair into earlier on was flopping all over the place in the classic action-reaction manner. "Gave up" was also of the same calibre, and given the World's notoriety for horrible acoustics, Trent's distortion actually came out quite clear and well.
Okay, honesty here. When Bowie suddenly appeared and did "Subterraneans" with Trent on sax, I have to admit, I was very impressed. Bowie's presence along with Reznor had a certain quality to it. I don't know; maybe it was just the whole idea of collaboration rather than, "I'll play, then when I'm done, you play." And Trent ain't half bad on sax. The combination of lights, rhythms, Bowie's voice and presence, and Trent's saxwork were just plain moving.
"Talk about inversion!" was all I could muster out of my head to my lips when Bowie's guitarist tapped entirely through "hurt," giving it a whole new sound, and Davey sang a duet with Reznor, who also played keys on the other Bowie song, "Scary Monsters." What was kind of funny was the fact that Bowie seemed to have this straight-posture type of presence and being largely in white linen garb, he contrasted with Trent and the rest of NIN's black garb. With Trent hunched over next to the straight-standing Bowie, Reznor reminded me of Mr. Burns from The Simpsons for some reason. I dunno...maybe it was that Rancho Steak burrito we picked up in Janesville earlier on....
Bowie doing "reptile" was more of a surprise than a treat. It worked to an extent, but I guess I'm just used to Trent doing the song. Then again, I think the burrito was in the final intestinal stages by then, too.
The little bit of "eraser" that was played was kind of a tease, but "down in it" was deliciously violent, and "burn" was a treat. Although Trent did, as usual, lose control moshing around by himself in back before slamming Danny in the small of the back f rom behind as he sang background and played keys. Hey, I know it's part of the territory, but that was a little painful and a lot rude. Danny thought so too, you could see it in his face. He picked up the keys and smashed them, and it was probably pure luck that Trent didn't take it in the face instead. Speaking of which, Trent: You know, the smashing of stuff is cool, and it's great stageshow stuff, and it CAN be fun...but it's been done, it's getting old, The Who was doing it before you, the other keys were Bowie's, not yours, and on top of all that, I COULDA USED THE TWO GUITARS YOU SMASHED! AAAAAAAARRRRGGGHHHHH! Vietnam flashback -- happens all the time.
Bowie seemed interesting enough at first for his set, and Gnat and I stayed for a bit, and took as much as was respectfully acceptable. One of the cool things was, as Gnat pointed out to me, that his bassist looked just like Storm of the X-Men. Whoa! Little did we know that 15 minutes after we left, Bowie stopped the set unexpectedly revealing that he was sick with the flu, and that the songlist was changed because he was losing his voice, and that he had to stop. No one complained. No, I didn't see this, but it was in the Chicago Tribune, written by someone who was there and who thought the songs were "Dance of the Pigs" and "Beautiful Liar."
So, overall...?
Well, it was cool to see Trent in the World Theatre again -- the last time I saw him there was at Lollapalooza '91, when Mr. Filter Richard Patrick was still in the band, bleeding out of his head 'cuz Trent tripped him, and Jeff Ward was still drumming before his demise. Come to think of it, that's where I first heard "wish" and "(you're so) physical" out of Trent, debuting those songs before broken was even released. Neat. Actually, I didn't know this until I got the bootleg of that show after broken came out. Hindsight is a funny thing. At the time we just thought, "Wow, here are two songs Trent is singing that aren't on any albums!" Or album, since he only had PHM at that time. But I digest....
It was also cool to see the collaboration and cooperation. And the remix versions were a really cool change not done by many bands. Props and stuff were kinda minimal, unlike the last tour, and so was the film -- but at least it wasn't as bad as Lolla '91, which was just a forward N on the left and a backward N on the right.
T-shirts sucked. Too expensive, not worth it. Wait a month or so for it to show up at your fave record store. I'm not saying they're bad, just that they're not worth $25-$45.
Six-year-old NIN fans. Whoa. Nothing wrong with that, but just weird to think that pretty hate machine is their age, if not older.
But, I agree with Gnat. Get to work, Trent. C'mon, you've got two whole albums to your name and you're milking them, juicing them. There are other bands that have put a slew of work into making more than two albums and are crusiing around with less hype and fanfare than you (such as Ministry). Let's not get too overconfident. People change and get tired. You're no exception.
Don't get me wrong. I've liked NIN ever since we first popped in that PHM in '89. But I have to admit that some aspects of the whole deal have been pretty hard to stomach. I mean, the show was good -- but, well, I've seen it many times before...and I think a lot of other people have, too. Things run thin.
---
chris wiberg (wiberg@ux5.cso.uiuc.edu):
One word: Surreal.
It was surreal to see David Bowie fronting nine inch nails. Even more surreal to have Trent backing him up on saxophone. Even MORE surreal to see Trent and Bowie do a duet of "hurt" with Bowie's band. But you guys probably know all about that stuff anyway. It was pretty cool, is what I'm trying to get across.... What was with "eraser"? It was totally different. Kind of cool, but totally different. The "hurt" duet was one of the most powerful performances I've ever seen. And it was cool to see NIN again, after almost a year. The guys looked like they were having fun. I hope they stop touring soon and record another friggin' album.
Though I never in my life imagined I'd be going to a David Bowie concert, I was impressed by his performance (and his album, which we listened to in the car on the way up). I mean, here's a guy who's had 20 years of practice at looking cool onstage. I couldn't tell he was sick until he told us. After that, though, his condition definitely started to degrade. He was leaning on the mic stand in between the lines he was singing. I felt awfully sorry for the guy; I just wanted to say, "Look, go inside, eat some soup! We understand!" He was definitely a trooper for getting as far as he did. He had to change the order of the songs around. And about 30 seconds into "The Man Who Sold the World," he started over. When he got to the chorus everyone cheered -- mostly, I suspect, because they thought he was doing a Nirvana cover. Finally, at the end of a song I didn't recognize -- which sounded like it might have been the set closer -- he moved forward a bit, said, "Thank you. I'm sorry. Goodnight" and walked offstage.
Prick was very cool. I was looking forward to seeing them almost as much as NIN, and they definitely lived up to it. McMahon's apparently gotten his hair cut, and he looked like some deranged cross between Jim Thirlwell and, well, David Bowie, prancing around onstage. They did the first seven songs on the album, mixed up, and ended abruptly at the end of "Tough." Cool shit. I think most of the audience even liked them.
Funny sidenote: As we were leaving, a guy came up to us and asked us if we knew who David Bowie was. We replied that yes, of course we did. And he said, "That's good to hear, 'cause I'm an old man, and the people I came here with were bitching that he didn't play his old stuff. It's 1995! He's not playing 'Fame' and 'Rebel, Rebel.' He's doing new stuff!" Kind of strange.
---
kyle moyer (ksmst12@vms.cis.pitt.edu):
Is it too much for people to treat David Bowie with respect? I'm not telling people what to like, but for God's sake -- the guy has been around for a long time and is one of Trent's biggest influences. If you really don't like his performance, leave -- but don't throw bottles and chant "Trent, Trent." Do you really think that will impress Trent? It probably disgusts him to see his idol treated like shit.
Think of it this way: If you were in a band and they became really popular, and 20 years from now Trent Reznor asks you to open for him because he really likes your music, how would you feel if your fans treated him like shit? I'd be pretty ashamed of my fans. It might be in a very small way enjoyable to see people like him more than someone that he thinks highly of, but it has to be depressing and frustrating to see his fans show a complete lack of respect for his idol.
---
matthew lewis (mlewis@cgrg.ohio-state.edu):
Do you think we could start a rumor that Trent has...I don't know...leprosy or something, so that he will lose his mass appeal and have to go back to playing smaller clubs?
Because these outdoor venues...they're just too big. I mean, stadium shows must be the next logical step, right?
That will be a sad day. Trent will be this little black speck on the horizon....
---
louis dunne (misery@shellx.best.com):
Some people have mentioned that NIN have been playing with two drummers. If so, who the second drummer, apart from Chris Vrenna? Is one of the others moonlighting on drums, or is there a new member?
---
mark sisson (be969@freenet.carleton.ca):
That would be Mr. Charlie Clouser. He's doin' a kinda drum/keyboards thingy. Plus, at one point, Bowie's drummer joins in the fray.
It's pretty damn...uh...drum-ish.
---
the rev. ammonia d (earthsea69@aol.com):
Just got back and wanted to post a bit about the show. I thought Prick sounded a lot better live than on their new CD. I am a bit ashamed to say this, but they were good. Lots of stage presence, and they were tight, and a good mix.
Some time I would like to start a discusion about Reznor being the Gene Roddenberry of industrial, which makes Prick The Next Generation and Marilyn Manson Deep Space Nine -- but I digress.... NIN sounded good, and Trent was his normal "happy" self. I really enjoyed the Bowie/NIN part of the show ("Scary Monsters"), except the sound was a bit fucked up. Bowie's mic was very "front," and I think it was a while before the sound man fixed the mix. Sadly, Bowie had the flu and cut his solo set short, but all in all I was impressed.
Did anyone see anything in the sky around 10:20 that may be considered interesting?
---
Detroit, michigan
chris ruffner (alembicart@megaweb.com):
For a couple of minutes there during the NIN set, I swear I could have been at a rap concert -- with all the four-letter words, lyrics demeaning women, etc. Don't get me wrong; I could care less about swearing, etc. But it's become so commonplace anymore that it's hardly subversive. Trent must love going on tour, for the T-shirt sales alone.
...My seats weren't that great, but the show was still pretty amazing. Fave part had to be the interlude between Bowie and NIN. I was sorely disappointed that Bowie didn't do "Panic In Detroit" (tongue firmly planted in cheek). Loved the show. My only comment: Less Outside and a couple of non-classics like "Running Up the Hill Backwards."
---
Columbus, ohio
r. kouba (76501.1477@compuserve.com>:
I saw NIN last fall at the Convention Center, when the crowd ripped the place up, so I was kinda expecting things to get a little wild here at Polaris. No such luck. The mosh pit during NIN was barely active all night. In the pavilion seats, I would say only about 10 percent of the people were getting into it. It was kinda weird....
Some of my personal highlights were the light show during "wish," Trent smashing his bass guitar and then tripping on his ass, Trent throwing the mic stand in the air and taking out a light, "closer to god" live, watching the Bowie fans shaking their heads at what they were seeing, and seeing an overly beefed-up Polaris security force totally overreacting to everything....
Bowie was all right, but the concert kinda ended with no momentum. NIN shoulda came out at the end to sing with Bowie instead of at the beginning.
I'm just happy to have seen NIN (however short a set) outside. I thought they sounded better outside then in a stuffy arena.
---
mary hu (hu.80@postbox.acs.ohio-state.edu):
Overall, I thought the concert was really good. I missed most of Prick, but I guess I'll survive. I got in the front row of the mosh pit (which was really weak) and didn't budge from there for the remainder of the night. The most interesting thing happened the following day when I read a newspaper that criticized Trent for playing remixes instead of versions of songs that "his fans could recognize." I don't know, I recognized them. I wonder if anyone left the concert going, "Man, why didn't he play 'closer?'" not realizing that he really did.
Bowie got crucified by the paper for not playing his old stuff, but he's out to promote a new album. Of course that's why he's playing stuff from Outside. Oh well. I'm pretty satisfied with life right now after seeing Trent. It was a really great concert, and the Bowie/Trent rendition of "hurt" really rocked.
---
alexandra (albaby999@aol.com):
Since everyone seems in a confessional mood ... I hate to be so base, but when Trent grabbed his ass in the middle of a set I think I had an orgasm. I left Polaris (what a gross commercial monstrosity; a McDonald's inside the gates...ooogey!) with a big-ass smile on my face.